Yee Shun Milk Company (Hong Kong)
Yee Shun Milk Company (Hong Kong)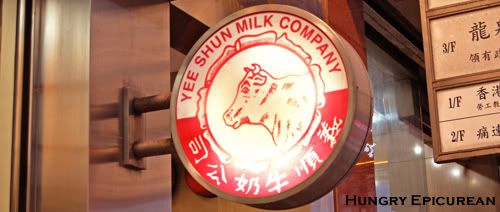 It was my second day in Hong Kong with Glenn and both of us headed out for some claypot rice (which will be blogged about later) Yau Ma Tei.
So after our dinner we explored the surrounding area for a while.  After passing by countless Chow Tai Fook, Chow Sang Sang and Luk Fooks, we stumbled onto this quaint little place that sells milk based desserts.
Prior to this trip, I have watched some Taiwanese variety show that introduced this milk base dessert.  Basically, its milk pudding made from either steaming or adding a solidifier e.g Ginger juice.
It was after dinner, and we've walked around a bit since it was a bit cold outside, we decided to sit down to rest our tired legs and to chow down on some sweets before continuing with our exploration.
There are many varieties of milk puddings to choose from, and all of them come either cold or hot.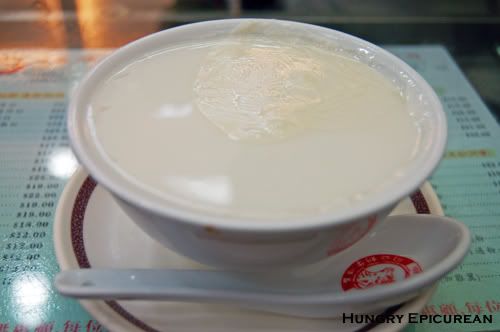 I ordered their Famous Double Skin Milk Pudding (a direct translation from the Chinese name) and I had it hot.  The pudding was really really smooth.  Smoother than silken toufu or chawanmushi.  The top layer of skin is actually curdled milk from the cooking process.  On first taste, it was really smooth and sweet.  To compare the taste, it somehow, tasted exactly like Anlene milk.  But then half way into this, I found it a bit heavy because it was a bit too sweet.  If its cold, maybe it would have been a bit different.
Glenn ordered a cold Ginger Milk Pudding . This was a lot more refreshing and tasted a lot lighter than my pudding.  I'm not a big fan of Ginger, but the Ginger taste in this pudding was strong but not overwhelming.  The spiciness of the ginger counteract the sweetness of the milk pudding thus making it a lot easier on the taste buds.
Personally I liked this a lot better than mine.
Note: This entry is part of my "Hong Kong Series" and is a combination of the efforts of my guest author, CY, and your humble author.
Yee Shun Milk Company
513 Nathan Road, Yau Ma Tei,
Hong Kong