Four Seasons Pot Rice (Hong Kong)
Four Seasons Pot Rice (Hong Kong)
Our first dinner in Hong Kong brought us to Yau Ma Tei.  Four Seasons Claypot Rice is an old cafe/eatery located just around the corner of the subway station.  This restaurant is what you would imagine in the late 80s/early 90s – mosaic flooring, tiled walls, fold-able wooden tables, chairs and friendly aunties donning apron colored brightly with flowery prints.
Everything here is starts with a humble HKD$18, and portion-wise, you are really getting a good deal out of this.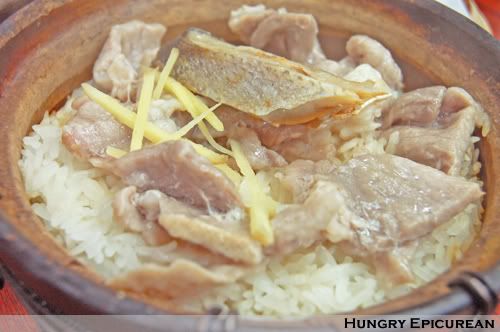 We ordered two choices of claypot rice, first being Salted fish and meat.  The meat slices are generous and well marinated.  The julienned ginger counteracted the robust flavor of the salted fish and gave it a very good balance.
But, I felt that the salted fish could be cut into tinier bits so that its easier to eat.  The rice was too moist by my standards.  But the "crispy" rice at the bottom of the pot made me forget about it.  Yes, apparently me and Glenn are suckers for that.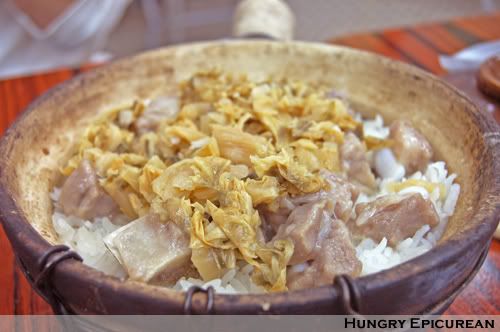 The other one claypot rice that we tried was the Preserved Vegetables and Pork Ribs, which I found a bit lack-lustred as compared to the previous one.  But the preserved vegetables were nice though.  A nice balance of sugar and salt.
Personally, I would give this a miss if I were to visit Hong Kong again.  Not all that fantastic as well even though it does come with free flow of tea.  But if you are a sucker for claypot, this would be the place you might want to put on your itinerary.
Note: This entry is part of my "Hong Kong Series" and is a combination of the efforts of my guest author, CY, and your humble author.
四季煲仔饭 (Four Seasons Pot Rice)

Arthur Street46-58
Yau Mah Tei