Everything with Fries
Everything with Fries
CY, my guest author, was eager to try out this cafe located at nearby Holland Village.
Having heard positive reviews from friends and blogs alike, about this quaint outfit that first started out in the Joo Chiat area.  The people behind Everything with Fries are people from Awfully Chocolate as well.
Even though they are name Everything with Fries, only their main courses would be served with fries.  I couldn't imagine your Nutella Tart served with a large portion of shoe string fries.
For every main, you get to choose being a choice of Shoe String or Straight Cut fries and a choice of five flavorings for the fries – Original, Curry, Salt and Vinegar, Sour Cream and Onion and Garlic and Herbs.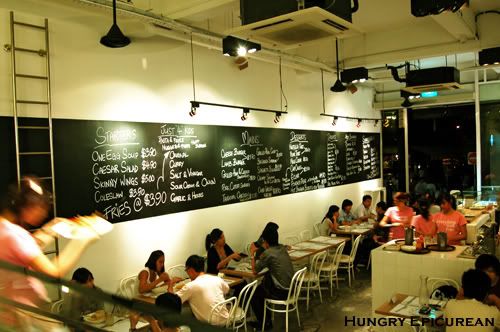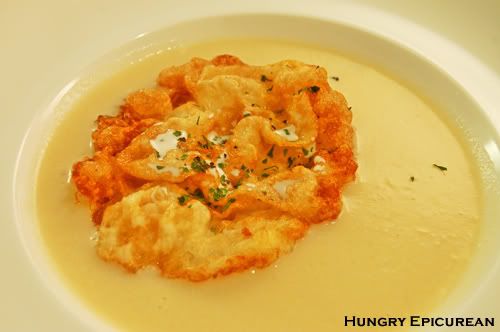 One Egg Soup ($3.90++)
Glenn: This was extremely value for money! Think about it, where else can you get a soup for just $3.90++?
Kudos to the chef who designed this dish – I'm not sure if the idea of putting a full sized egg omelette into a bowl soup is original, but one thing's for certain, many of us (at least I have) had the good honour of having scrambled egg omelette in a clear chicken broth when young.
This clearly brought back memories.
That said, frankly, I felt that this was more of a "warm-me-up" or "fill-me-up", rather than a "whet-my-appetite".
CY: I like how I can eat the egg with the soup, and the fact that the soup is not canned soup made it more worth the money.
CY: I had their Cheese Burger with Original fries.  The Burger patty was tender and juicy not too dry.  The tomato salsa on top of the patty and the cheese is sweet and has a nice tomato aroma to it.  The croûtons of the salad, I heard, was made by themselves.
I kinda like the fries that I was served (our order of fries was mistakenly swapped).  But I felt that the portion of fries was abit too big.  Apart from it, the seasoning was nice but can be quite thirst inducing.
Breaded salmon ($13.90++)
Glenn: The breaded salmon was a surprise! In a good way, that is.
The salmon was far from being over-cooked and thus, was tender and moist.
I did not quite take to the salad and fries that came with the dish though. The salad was dosed with too much vinegar, while the curry fries were a little too salty for my liking.
Nonetheless, considering that it costs just $13.90++ for a decent-sized piece of salmon, I'm willing to look the other way!
Desserts
Glenn: Unfortunately, by the time we had ended our meal, both CY and myself were pretty stuffed and thus, had no opportunity to try the desserts. They did, however, look extremely appetizing!
Everything With Fries
458 Joo Chiat Road
Tel: +65 6345 5034
40 Lorong Mambong
Holland Village
Tel: +65 6463 3741
(Closed on Monday)