Yung Kee Restaurant (Hong Kong)
Yung Kee Restaurant (Hong Kong)
First thing in the 2nd morning of our Hong Kong trip, Glenn and I had planned to visit Lin Heung.  So on our way there in a cab (take the subway, its much faster and alot cheaper) we decided to ask the nice cabby where to eat in and around Central.  He then recommended us the Roast Goose from Yung Kee.
And while having our dim sum breakfast, the patrons that shared the same table as us talked about Yung Kee as well, which stoked our curiosity even more to try this restaurant.
Yung Kee is a Chinese-Cantonese restaurant that is well-known with the locals for serving roast goose and their Cantonese dishes.  And its generally a suitable place for families to have their dinner or lunch here.
Need I add that, Yung Kee was awarded 1 Michelin Star in the The Michelin Guide – Hong Kong / Macau 2010? That, alone, should be reason enough to plan for a visit to Yung Kee.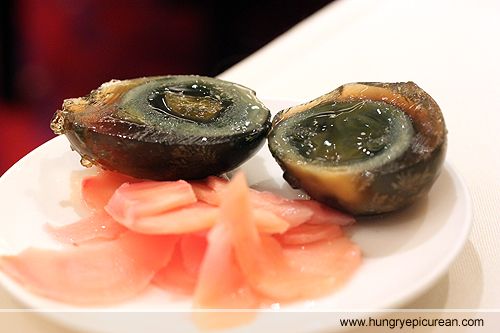 Glenn: I had this small appetizer of century egg served with pickled gingers. A simple appetizer to whet those tastebuds, not that that the aromas and atmosphere of the restaurant had not already done so.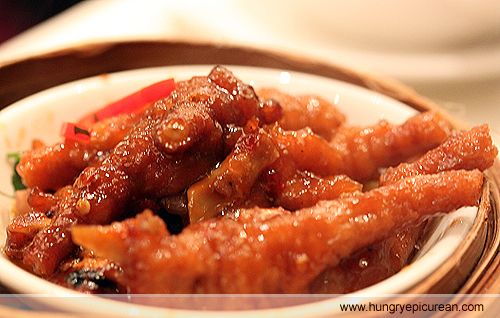 Glenn: I saw this on the menu and was all gung-ho about wanting to have a go at it. Chicken Feet. A delicacy to some, while a nuisance to some. It's funny how the Chinese (not all anyway, CY included) love their innards and feet, while some cuisines discard them at first sight.
The caramelized sweet sauce complimented the gelatinous chicken feet that melted in your mouth. However, I felt that the sauce was a tad too sweet. In my opinion, it could have done with 20% less on the sweet scale.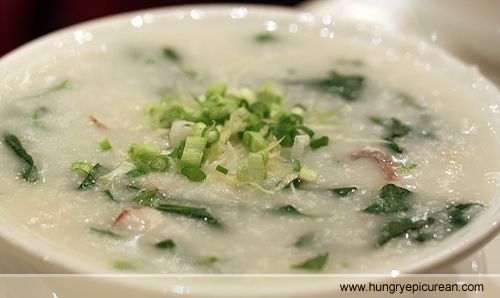 I'm rather picky when it comes to Cantonese porridge, and Yung Kee's Slice Fish with Boxthorn Leaves Porridge certainly met my expectations.  Just to clarify, Boxthorn Leaves are more commonly known as "Gao Gei Choy", yes, the ones your mother use to make soup along with Ikan Bilis, Fishball and eggs.
I never had Boxthorn Leaves inside my fish porridge before but this was a surprisingly good combination to start a typical morning breakfast.  There was a generous amount of fish slices in the smooth porridge and the unique taste of the leaves gave a fresh experience to my tastebuds.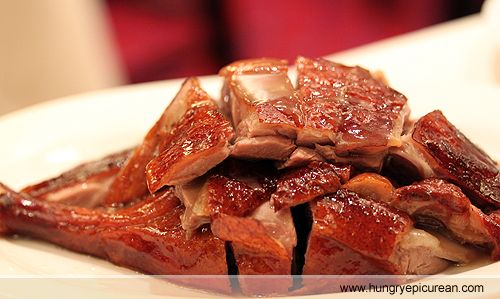 Yung Kee's famous Roast Goose certainly lived up to its reputation.  In fact, it is so popular, every customer orders this when they visit.  And it was sold out shortly after we left the restaurant.
The fragrantly roasted bird was crispy on the outside, but the meat remained succulent, juicy and really tender.  The texture of the meat was more refined than that of the duck.  It was nicely seasoned.  I would say this is by far the best roasted bird I've had in my entire life.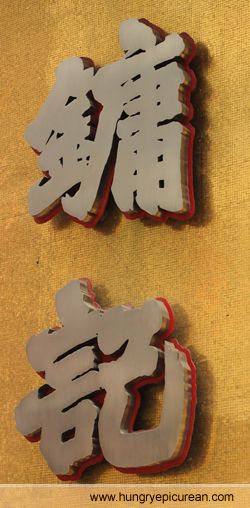 Yung Kee Restaurant
32-40 Wellington Street, Central, Hong Kong
Tel: (852) 2522 1624
Fax: (852) 2840 0888
Email: info@yungkee.com.hk
Website: http://www.yungkee.com.hk/index.html