Paul Lafayet Patisserie (Hong Kong)
Paul Lafayet Patisserie (Hong Kong)
Searching through Openrice got us to a nearby French Patisserie near our hotel in K11. A quick Google showed that 'Paul Lafayet', belongs to French expat, Toni Younes and that it is a relatively young upstart, having only opened its doors in February 2010.
To quote Younes' interview with Luxedining, "We don't use artificial flavouring or preservatives or anything like that. We just use good quality ingredients: President butter from France, almonds from Valencia, and Valrhona chocolate and so on," says Youne."
This was Paul Lafayet's Mille-Feuilles (Puff pastry layers & Vanilla cream).
Traditionally, a Mille-feuille is made up of three layers of puff pastry, alternating with two layers of cream pâtissière, but sometimes whipped cream, or jam. The top is usually glazed with icing or fondant in alternating white (icing) and brown (chocolate) strips, and combed.

Retrieved 17 April, 2010,  from Wikipedia: http://en.wikipedia.org/wiki/Mille-feuille
Glenn: While CY preferred this and admittedly, the puff pastry were crisp, I did not quite like the overall taste to this cake. Personal opinion, I suppose.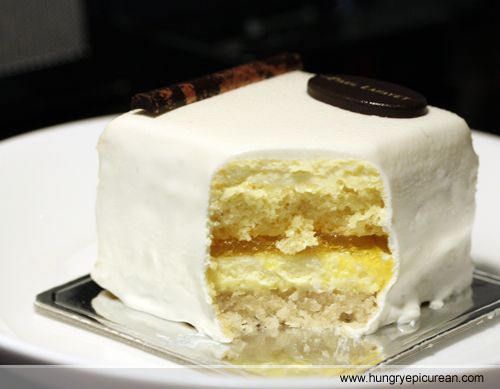 This Chocolat Blanc Aux Fruits De La Passion (White chocolate Passion fruit cake) had just the right balance of sourness and sweetness.
Glenn: I preferred this over the Mille-Feuille. The texture, the flavours and the appearance of it just agreed with me. Somehow, while eating it, I was reminded of K-ki's Kinabaru. Yes, they are completely different cakes,but the common denominator being, the passion fruit triggered the memory.
I do like K-ki's cakes.
According to the (read: very friendly) sales person, the Creme Brulee is Paul Lafayet's best-seller apart from the Chocolat Blanc Aux Fruits De La Passion. The friendly staff at the counter will actually caramelize the sugar in front of your eyes when you order this lovely dessert. (Read: a-la minute)
And guess what, you can actually bring home the clay ramekin that the creme brulee was made in.  And CY has it siting on hi shelf right now.
CY: I liked the consistency of the dessert, except that it was just a tad too soft.
Glenn: I found it to be a tad light (in the sense of  a creme brulee), but for someone who has a lighter taste bud like me, it was just nice! In addition, I was pleased that it did not have a over-whelming "eggy" flavour undertone, as I do not fall in love with too strong a "eggy" flavour (again, personal preference).
Paul Lafayet Patisserie Francaise
G23, G/F, K11
18 Hanoi Road
Tsim Sha Tsui
Kowloon, Hong Kong
Tel: (852) 3586 9624
Website: www.paullafayet.com