Kai Kee Restaurant (Hong Kong)
Kai Kee Restaurant (Hong Kong)
CY and myself were feeling a tad hungry late at night and thus went around looking for a place to have supper around our hotel. So, off to a restaurant round the corner from our hotel it was.
Kai Kee is a restaurant that operates like your typical Hong Kong cafe.  The menu consists of mainly 鱼蛋粉 (Fishball noodles). Their version of Fishball noodles is different from one that you would see here in Singapore. It is cooked in a rich and flavourful soup, very much like your wanton noodles with soup.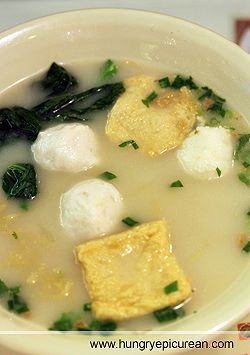 Review by CY
I had the Noodles with 4 treasures ala Mixed Fishball Noodles. The '4 treasures' include fish cake, squid and fish balls and normal fish balls and lastly, fish maw.  The fish balls here taste a whole lot different from the Singapore version.  Unlike their softer local counterpart, these fish balls are a lot firmer.  Personally, I liked these fish balls more than the local ones.  In my opinion, the soup was too heavy in taste and a bit too salty.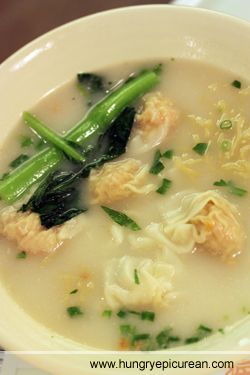 Review by Glenn
I had the Noodles with Shrimp Wantons. Admittedly, while the prawn filling inside the dumplings were fresh, they tasted somewhat ordinary. The soup, in your humble author's opinion, tasted somewhat salty. I believe that the soup was laden with MSG, for I was really thirsty and I did not have anything else to eat in the prior 2 hours.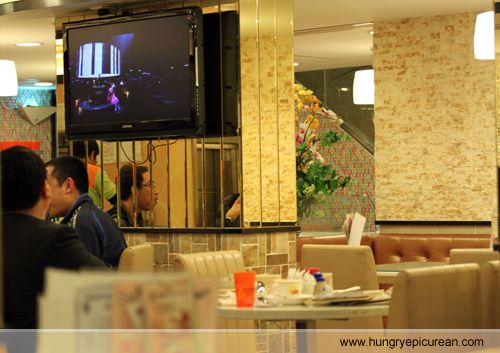 In summary, Kai Kee is decent place to have a quick fix when one is in the neighbourhood. One probably would not go all out in search of this place for their average and ordinary cuisine.
P.S. Their menu does indeed look extensive, so what both CY and myself had was but just a sampling and by no means  depicting a full picture of the cuisine here.
Note: This entry is part of my "Hong Kong Series" and is a combination of the efforts of my guest author, CY, and your humble author.
Kai Kee Noodle 雞記潮州麵食
G/F, 15C Carnarvon Road
Tsim Sha Tsui, Kowloon
尖沙咀加拿芬道15號C地下