The French Kitchen
The French Kitchen
The French; they truly know their romance, for I have fallen deeply in love with Jean-Charles Dubois' cusine.
This French affair cost me S$36++ but it was worth every dollar, down to the last cent. It is in the humble opinion of your author that The French Kitchen (TFK) is now his favourite French restaurant in Singapore.
The French Kitchen had been on my to-go list for the longest time, but I had not been able to be a participating party to this love affair as the set lunch is only offered on weekdays. So, when the opportunity presented itself one fine day, I thought of TFK immediately!
Sidenote: When I e-mailed TFK for my reservation and permission with regards to photography, Amanda Ee-Dubois, Director of TFK had this to say, "Photography is not allowed at The French Kitchen except by members of the press."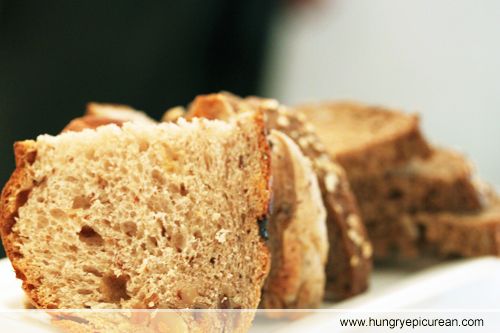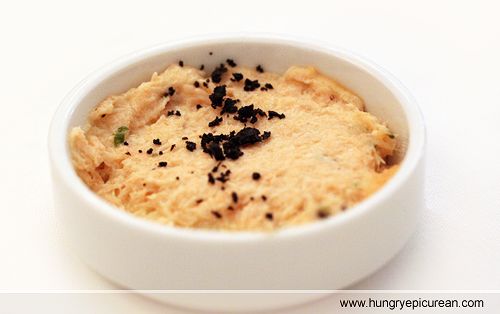 Served warm, the complimentary bread by itself was not outstanding per-se. Rather it was the spread that accompanied it that was outstanding. Instead of a the traditional butter spread or olive oil dip,  TFK offers a salmon rillette as  a spread. While it was a tad fishy, (and thus left mostly untouched) for both my dining partner and myself, it was this creative to offer diners that something extra.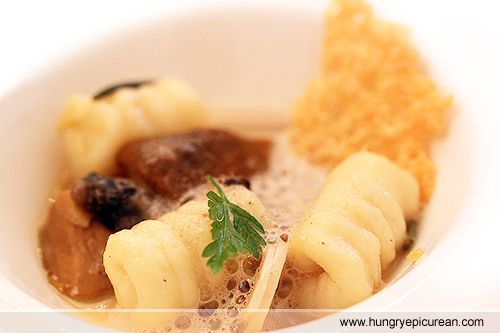 The complimentary Amuse Bouche was a great way to start the meal! While I had the impression that amuse bouche (at least in Singapore's context) was only served at French dinners, it was a pleasant surprise when I saw this being served. To be fair, the other 2 tables next to mine, were pleasantly surprised as well (One complaining that their table did not order this dish!). I particularly liked the Parmesan crisp.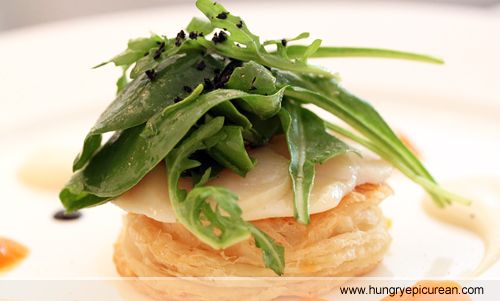 The Millefeuille de Saint Jacques (tartlet of seared Hokkaido sea scallop, bayonne ham leaf, carrot mousseline with scampi oil and balsamico vinaigrette) was my dining partner's choice of appetizer. Thinly sliced, the scallops were a joy to eat.
The Bisque de Homard (traditional lobster bisque with leek custard and tiger prawn tempura) is (as of this writing), by far the best lobster bisque I've ever had. I am not one to have favourites, but this was clearly a deal-clincher for me. The soup tasted oh-so-flavourful. Rustic and homely, exactly just like how I want my lobster bisques!
Served with 2 ebi (prawn) tempuras and leek custard was interesting! As far as I could tell, the prawns were very fresh, being stingy is clearly not on his gameplan here.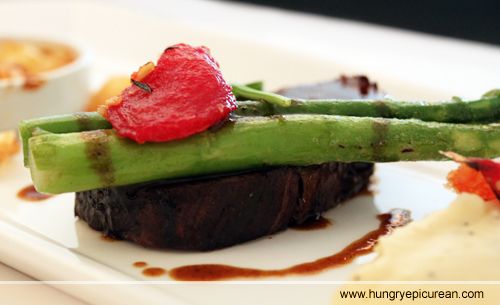 My partner's Fillet de Boeuf (Pan Fried Beef Tenderloin with Cauliflower Gratin, Glazed Baby Onion with Bordelaise sauce) was as good as it could get. Braised to exactly the right done-ness, it was tender to the knife and to the bite.
Served alongside, was a small portion of creamy cauliflower gratin. My dining partner loved it, although, in your author's opinion, it was too creamy. To each his own, I suppose?
I love asparagus (if you haven't already known that from my mezza9 post), so I stole my partner's serving of the asparagus. They were excellent! I love asparagus especially when butter is used to panfry them, giving them that buttery edge to it.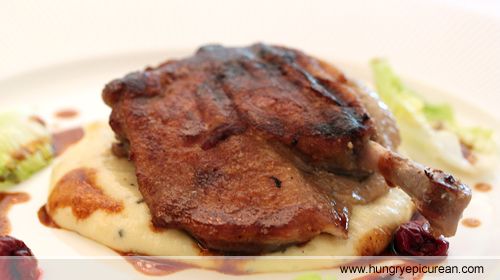 Do you know what I think is the quintessential dish to have on a French menu? Personally it has to be the Confit De Canard (slow cooked duck leg confit with truffled mashed potato and onion marmalade, light duck jus). A simple sounding dish, yet so difficult to get it right!
TFK's rendition was OUTSTANDING! Moist in the inside, yet crisp on the outside. It did not have the "jelak" feeling of other duck confits at lesser restaurants or cafes. The mashed potato was AWESOME! Infused with small bits of truffles, it just matched the duck so well!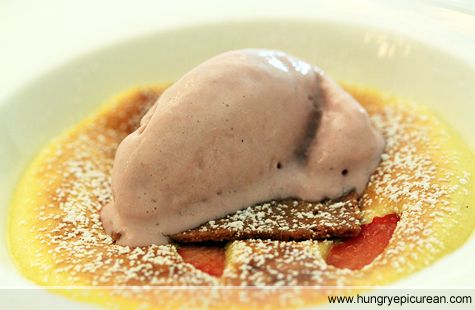 Sabayon de poire au champagne (Gratinated champagne sabayon with pear marmalade and forest berry ice cream)
A Sabayon is a

sauce that is a foamy mixture called a sabayon (a cousin of the light, egg-based Italian dessert zabaglione). A sabayon is made by beating egg yolks with a liquid over simmering water until thickened and increased in volume. ( the liquid can be water, but champagne or wine is often used for a savoury sabayon.)

Last Accessed 07 March 2010. http://www.ibiblio.org/expo/restaurant/chef/sabayon.html
There were 2 dessert choices in the Set Lunch menu, one of them being the Sabayon de poire au champagne. My dining partner loved this light, and refreshing dessert. It was, unfortunately, my first time having this dessert, so with no other rendition to compare with, I felt this was quite good.
The slightly Forest Berry ice cream was efficient in cutting through the sweetness of the dessert, and when combined, it was as if it was a match made in heaven.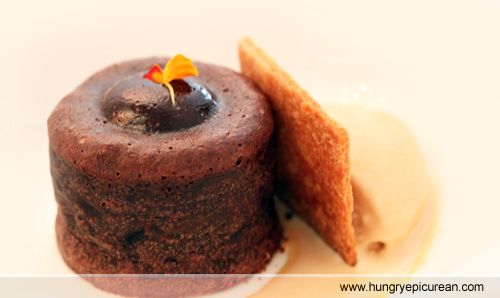 The other dessert on the menu was a Creme Brulee (Chocolate Creme Brulee with Tahitian Vanilla Ice Cream). However, the waitress informed me that the chef had changed my dessert from the boring Creme Brulee to a MOËLLEUX (Traditional dubois warm chocolate fondant with caramelized banana ice-cream). It wasn't mind blowing, in case you were wondering, but it had a molten center that oozed out upon slicing through the fondant.
The French Kitchen – I'm already starting to miss you.
The French Kitchen
7 Magazine Rd (off Merchant Road)
#01-03, Central Mall
Singapore 059572
Tel: +65 6438 1823
Fax: +65 6438 3043
Email: info@thefrenchkitchen.com.sg
Website: www.thefrenchkitchen.com.sg
Opening Hours: Lunch: 12pm-2pm Tue-Fri; 12pm-3pm Sun
Dinner: 7pm-10pm Tue-Sat 6.30pm-9.30pm Sun; Closed on Mondays