Saint Pierre
Saint Pierre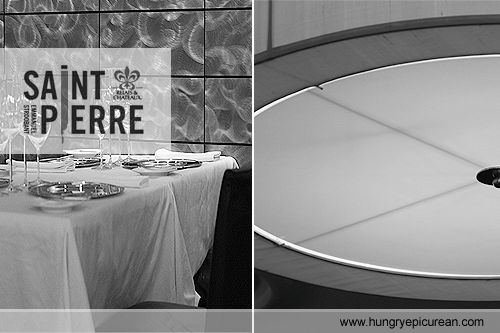 Ever since my first visit to Saint Pierre close to 3 years ago, I have been an inordinate admirer of its cuisine.
Saint Pierre is one of the most well-known French restaurant in Singapore, if not THE most well known. Owned by the affable Chef Emmanuel Stroobant, it is renowned for serving up modern French dishes with bits of Japanese influence.
While many may have the impression that a meal at Saint Pierre can easily go upwards of S$200++ per person, Saint Pierre has a relatively affordable set lunch menu that starts from S$28++ to S$48++ depending on your choices. Add that to the fact that Saint Pierre's set lunch menu changes on a weekly basis, one would be spoilt for choice, even if you were to re-visit this place every week.
Complimentary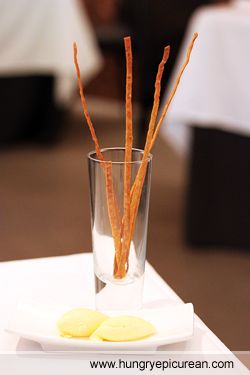 Cheese Sticks
The moment you are seated down, a small serving of cheese sticks is presented to you. While nothing fascinating, it helps to have something to bite on while perusing the menu.
Complimentary Sun-Dried Tomato and Olive roll and Baguette
Served warm, the tomato and olive oil roll was a pleasant savory fill-me-up. The baguette, however, was disappointing for it was a tad too dry for my liking.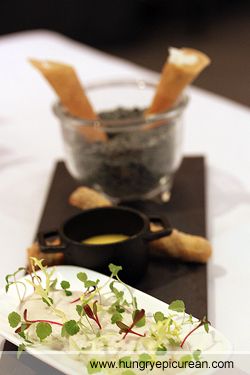 (From back to front) Cod fish in air dried olive crumble, Sardine Appetizier and Anchovy paste.
I liked the excellent pairing of the cod fish and the air dried olive crumble. That said, I have never been a real fan of fishy anchovies.
Black olive Chips (Beige) and Sundried Tomatoes Chips (Orange).
Amuse Bouche
Foie gras mousse , walnut jelly topped with mushrooms
The amuse bouche for the day was a great start to the meal! Admittedly, if not for the waiter's description of the dish,  I could hardly make out that the jelly was in fact a walnut flavoured one.
While I had a similar foie gras mousse at Ember before, I preferred Saint Pierre's milder and smoother rendition.
Appetizers
Portobello mushroom soup topped with chives
If you've been a reader of my blog or have read some of my previous entries, you would have come to realize that I tend to lean towards old schooled, almost bistro-like soups.
On that account,  I absolutely adore Saint Pierre's portobello mushroom soup. It was hearty, yet with a fine-dining finish to it. To elaborate on my last point, the soup had a robust mushroom flavour and was well strained, smooth in texture.
Classic pan-fried foie gras with caramelised green apples and old port sauce (S$8++ Additional Top Up)

I've had the pleasure of having this indulgent ingredient at many restaurants in my epicurean adventures and I just have to say that Saint Pierre's rendition is the best that I've had so far; few restaurants come close to the finesse of this dish.
The foie gras was pan seared to perfection. I was recently asked by a friend to describe this delicacy. My reply to her, a well cooked foie gras would have a crispy outside encompassing soft and creamy insides. This dish epitomizes this description.
Boy, oh boy, this goose duck (thanks ice) died for a good cause. Now, can I have just one more serving of this?
Prelude to Main Course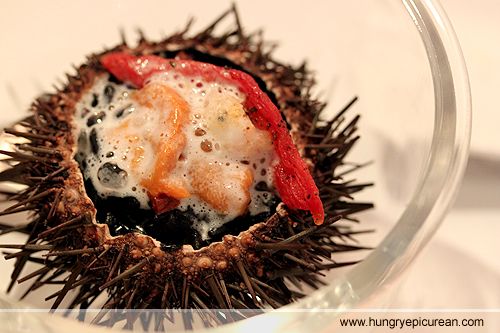 Complimentary Sea Urchin on a bed of squid ink risotto topped with momotaro tomatoes.
With compliments from Chef Paul Froggatt, this prelude to the main course was Excellent.  I've never had the opportunity to try sea urchin outside of the japanese sushi restaurants. So when I saw this served, this brought many smiles to face.
Beneath the sea urchin, was a perfectly cooked al-dente squink ink risotto.
However, I personally feel that the best way to appreciate the true beauty of sea urchin is when it is served on top of sushi rice, without any additional flavourings and seasonings.
Main Courses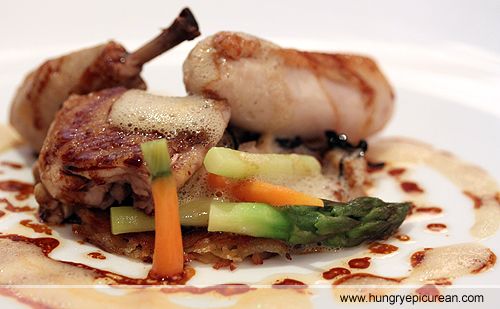 Roasted chicken served on a bed of mixed vegatables and asparagus.
The roasted chicken was the only meat dish on the menu. The dining partner loved this dish for its simplicity and quality of the produce.
Unquestionably, while the the roasted chicken meat was tender, this dish was, in your author's humble and most honest opinion, a little boring. You could say that it was a dish that was on the safe side of things.
White miso marinated black cod with braised fennel, warm fennel & roma tomato salad, creamy fennel sauce
I have been hearing so much about Saint Pierre's white miso marinated cod recently and I was raring to give this a go.
Away from my usual order of meats and pastas, I was ardently surprised that I loved my cod fish. I've had a few occasions where I had ordered Miso marinated cod fish from Japanese outlets and was expecting something along that line.
But, how wrong was I, to make such an assumption, for blown away, I truly was.
Saint Pierre's miso cod is mildly marinated to compliment the natural flavours the cod, rather than overpowering and masking them. Cooked flawlessly, the cod was not over cooked, leaving its natural flaky texture and moist and oily insides in tact.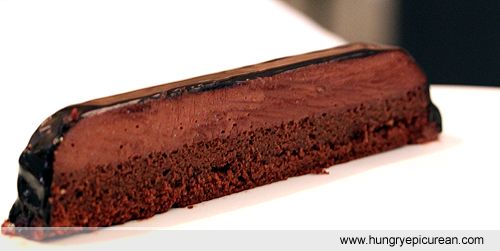 Grandma stroobant's flourless belgian chocolate cake layered with chocolate mousse served with praline ice cream
Unfortunately, the only slight disappointment to this sumptuous meal, would be Grandma Stroobant's chocolate cake. While it was creamy, smooth,  and moist, it was a exceedingly sweet for me.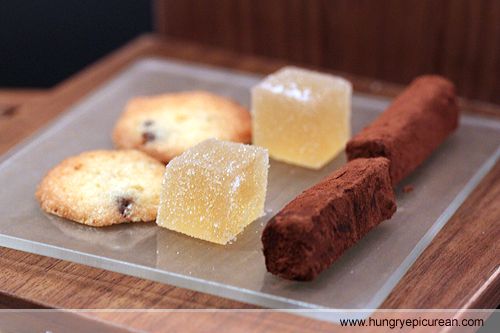 Petit Fours – Chocolate log, lemon marmalade and chocolate chip cookies
Saint Pierre, I hear you calling out for me.
Saint Pierre by Emmanuel Stroobant
3 Magazine Road
#01-01 Central Mall
Tel: +65 6438 0887
Website: http://www.saintpierre.com.sg