Oasis Poolside BBQ Buffet
Oasis Poolside BBQ Buffet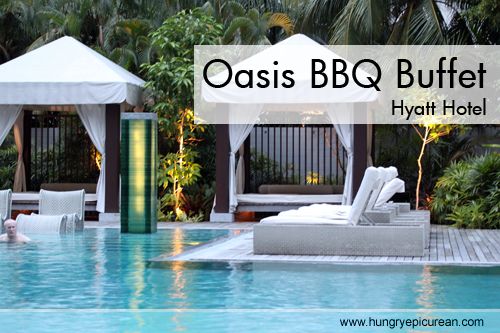 As part of Harris' and my "Hyatt Series", we recently paid a visit to Oasis, Hyatt Hotel's poolside restaurant. While this visit was a invited session by Hyatt Hotel, both of us had never planned for it to be that way. When we made a reservation via e-mail, a member of Hyatt's marketing group read about our prior visit to mezza9 and Pete's Place and kindly offered to invite us for a tasting session.
If I were to describe the ambience at Oasis, I would say that it would be an excellent hangout with friends or just a romantic night out for 2 (Especially if both of you simply adore bbq seafood and meats.)
Without further ado, I present to you, Oasis.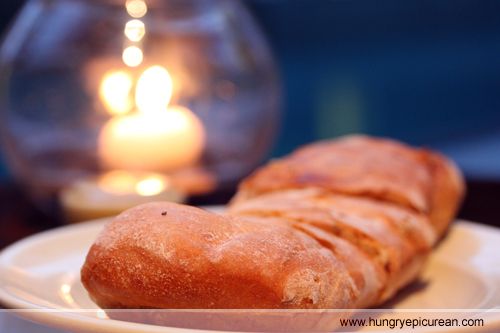 Complimentary Garlic Bread
Both Harris and myself were tempted to have second helpings of the garlic bread! Of course, with such a wide array of fresh seafood and meats available, we settled for lesser of the two evils.
Appetizers
A selection of hot and cold appetizers is available.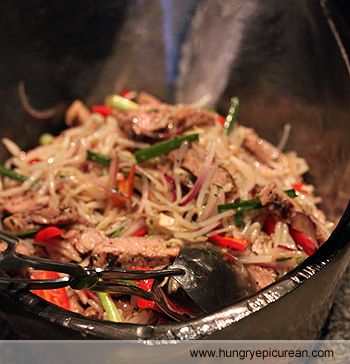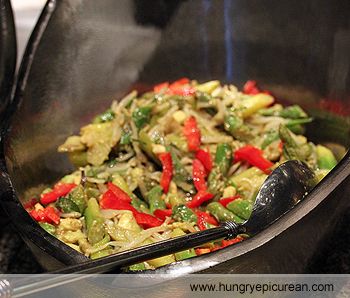 Starting with the hot appetizers, the Grilled Skirt Steak with Beansprouts (pictured above) was tender while various salads are available for those that need a green fix. (But then again, do you really want to have salads at a poolside BBQ restaurant?)
For those who love their cheeses, there is a cold cheese platter just for you.
Besides having a Baked Potato with Turkey Bacon Bits (pictured above ) available, there are Roasted Sweet Corn to pair your meat indulgences with.
Now out with the appetizers for you, our main courses, here we come.
Grilled Seafood Platter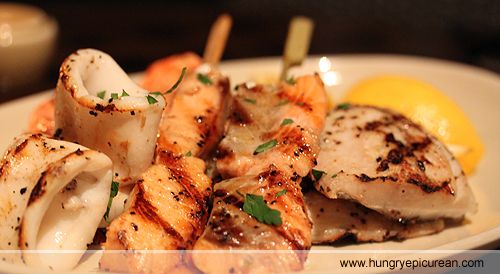 While the Grilled Squids and Grilled Prawns were large, the squids were a tad too hard (perhaps a little overcooked?)
I particularly loved the Grilled Salmon skewers! They were grilled to absolute perfection. It was so moist and melt-in-your-mouth tender. I couldn't have asked for more.
The Grilled Seabass was decent. I liked the charred taste that a barbecue lends to any meat, particularly fish.
Grilled Meat Platter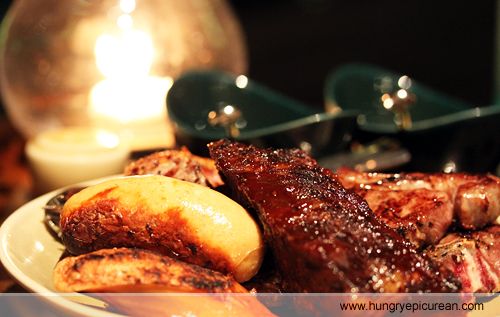 We were served a meat platter that included Grilled Beef Steak, Grilled Chicken, Lamb Chops, Beef Sausages and Chicken Sausages and most especially the Marinated Beef Ribs.
The Grilled Beef Steak and Grilled Chicken tasted fine but were slightly dry and tough on some parts while the 2 servings of Lamb Chops had a tad too much fat around them for our liking.
However, special mention has to be given to the Marinated Beef Ribs. I've had my fair share of beef ribs so when I conclude that the beef ribs had got to be one of the most tender and delectable around, I mean what I say.
Now, can I have more ribs please?
Desserts
Oasis is not just about grilled seafood and meats, for a decent spread of desserts is available to satisfy that sweet tooth.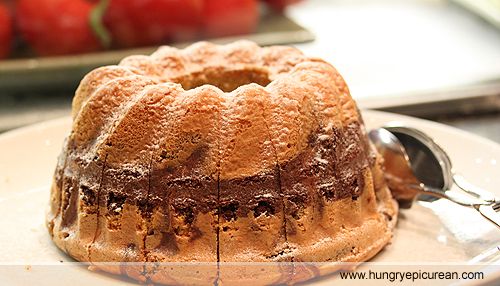 Baked Apple Tart and Blueberry Crumble Tart and Marble Chocolate Cake (All Pictured Above).
While boring, I quite liked the texture of the Caramel Custard Pudding.
If you just need to have a scoop of ice cream, you will be pleased to know that there are two ice-cream flavours available here – a Vanilla Bean Ice-Cream and Harris' personal favourite Raspberry Sherbet. While not the best, I preferred the creamy Vanilla Bean ice cream to the somewhat tangy Raspberry Sherbet.
Fill Me Ups
P.S If by any chance, you did not manage to fill up with stomach with all that yummy food and desserts and just have to fill up on carbs, there is the always reliable Local Fried Rice and Fried Kway Teow here .
With 3 restaurants out of 4 completed in the Hyatt series, what lies ahead is StraitsKitchen. Harris and myself will be making a visit there soon, so stay tuned!
Thank you Miss Rina from Hyatt Hotel for inviting us for this tasting session.
Price
$68++ for the weekend dinner buffet, inclusive of beer, wines and margaritas.
Oasis Poolside Restaurant
Grand Hyatt Singapore, Level 5 (Next to Damai Spa).