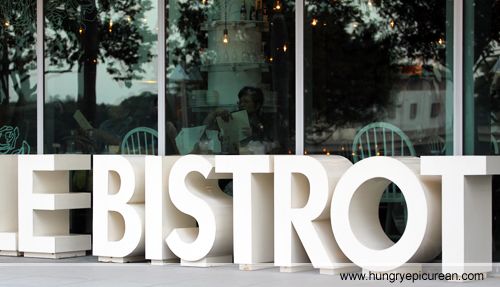 Le Bistrot features "classic and inventive French cuisine" in an unpretentious setting at the Singapore Indoor Stadium.
Helmed by Cordon-Blue trained Owner-chef Lee Chin Sin, the menu consists of hearty bistro favourites such as Duck Leg Confit and the ubiquitous French Onion soup.
The set lunch and dinner menu goes for S$50++ for a two course or S$60++ for a three course meal. Considering how the menu is the same for both lunch and dinner, it does seem, in comparison that lunch would be somewhat less worth it, considering other set lunches in town, go for only S$40++ tops.
Complimentary Bread
Appetizers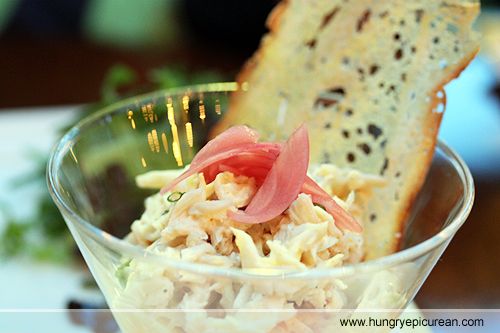 My appetizer of Oeuf Mayonnaise – Egg mouseline with blue swimmer crab mayonnaise and red onion pickle.
It consisted plenty of crab chunks but I was not taken in by the over dosing of mayonnaise.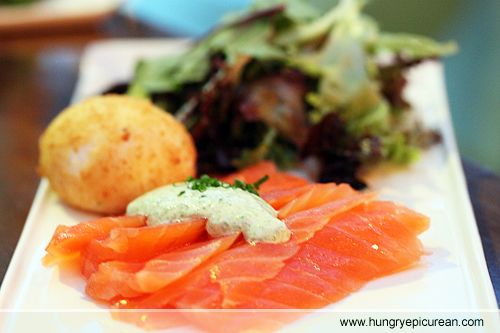 My dining partner's appetizer of Gravlax (Saumon Cru Mariné), Oeuf Mollet Croquant, Crème Fraîche à la Menthe, basically, raw salmon fillet homecured with dill and gin, drizzled with white truffle oil, and served with a deep-fried soft boiled egg, mint crème fraîche and mesclun salad.
She commented that the egg reminded her of Sage's Asparagus & Egg dish.
Main Courses
My dining partner's main of Saumon à l'Unilatéral et sa Soupe à l'Encre de Seiche (pan-seared salmon fillet with squid ink velouté and sous-vide cauliflower) came with, and I quote, "interesting shooter of squid ink velouté on the side."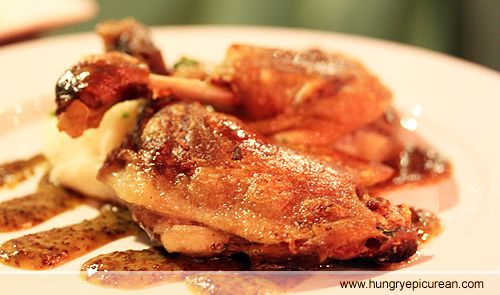 A perennial favourite of mine in French bistros is the Confit de Cuisses de Canard. The duck leg confit with honey-mustard vinaigrette and potato purée was cooked rather well. The meat was moist, and the skin crisp to the last bite.
Most surprising of all was that inside of just 1 duck leg, it came served with 2. I'm not sure of the reason behind this, because I, most certainly am not able to stomach 2 duck leg confits at one go!
Desserts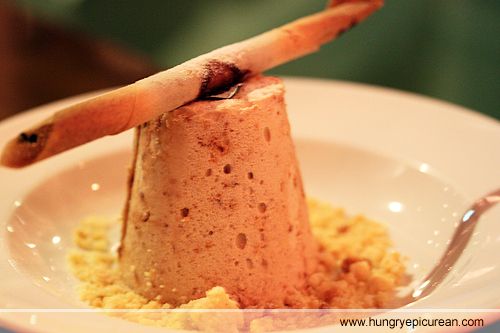 The Nougat Glacé aux Noisettes (frozen parfait of hazelnut praline and honey with a feuilles de brick pastry "cigarello" of
Gianduja and candied orange peel) was my dining partner's dessert of choice.
Nutty and light in flavour and in texture, it would definitely appeal to many.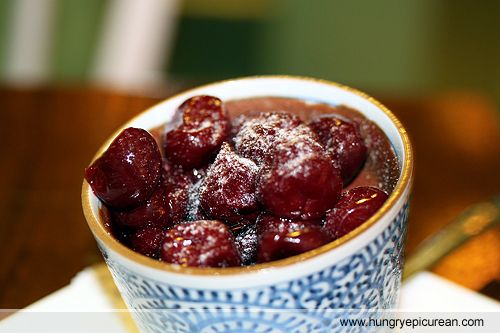 To end off my meal, I chose the dessert of the day,  72% dark chocolate mousse topped with morella cherries. Unfortunately, this dessert didn't hit the right spot with me, but weirdly enough, the dining partner preferred this to her own choice, and we both willingly swopped our desserts.
Conclusion
Le Bistrot is a casual French bistro that serves up pretty decent classics. While desserts may not be their forte, the mains did not disappoint. Adding to the fact that their portions are pretty large, even for someone like myself, I am positively sure that Le Bistrot has its supporters. However, with many other French restaurants serving up fine French cuisine at cheaper prices (For Set Lunches anyway), ala, The French Kitchen, Au Petit Salut and even Saint Pierre, location could be the clear winner here for Le Bistrot.
For an alternative review, do read myfoodsirens' review of Le Bistrot here: http://myfoodsirens.wordpress.com/2010/03/14/le-bistrot/
Restaurant Details
Le Bistrot
2 Stadium Walk
#01-03 Singapore Indoor Stadium
Tel: +65 6447 0018
Website: http://www.lebistrot.com.sg
Opening hours
Tue–Sun 11.45am – 2pm, 6pm – 10pm
Sat & Sun 10am – 2pm (Closed on Mon & PH)