Brunch at Private Affairs
Brunch at Private Affairs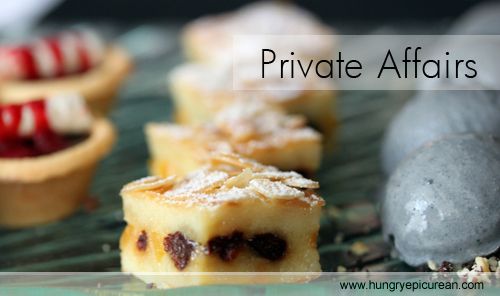 Private Affairs has a Sunday Brunch, that is available from 11.30 to 3.30pm. Priced from $68++/$30++ per adult/child below 12, the brunch allows for a single order of main course, and an unlimited flow of appetizers and desserts. An additional $50++, gives you free flow of house sparkling, red and white wine or $15++ for free flow of juices and soft drinks.
Rather than just a complimentary bread platter, three tiers of 'fill-me-ups' was served.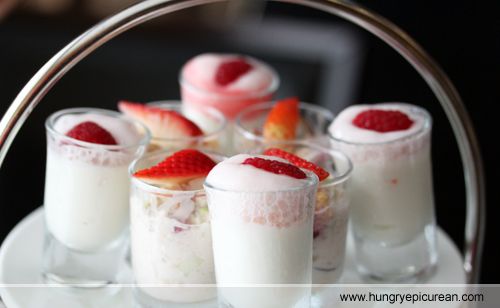 On the first tier were a Creamy Yogurt topped with Berry Espuma and a Strawberry & Raisin Museli. I much preferred the Museli though!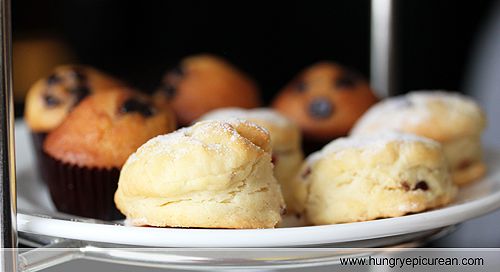 On the 2nd tier, A platter of Banana & Walnut Muffins and Scones was served.
Accompanying the scones are Basil Crème Fraiche and 2 berry jams, on the last tier.
As part of the brunch, you get 2 eggs, either fried, scrambled, omelette or benedict with choice of sides of sausages, bacon or ham.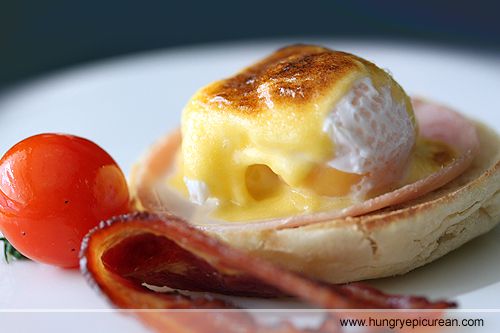 The Egg Benedict was far from being well done. The yolk was over coooked (no flowing yolk here) and the surrounding egg white was tough.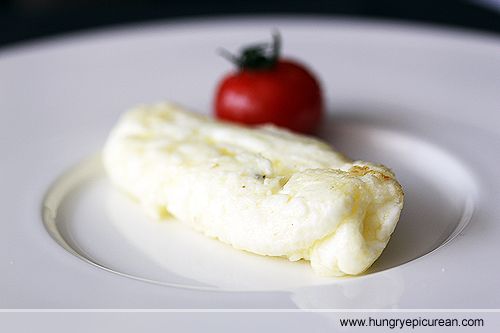 Egg white omelette with cherry tomato
We had 4 orders of the Cured Salmon with Braised leek, Avruga and Yuzu vinaigrette. The fact that we had 4 servings of this, speaks volumes, doesn't it?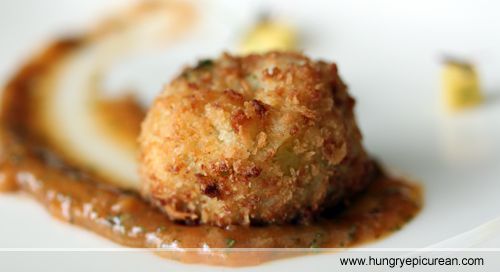 When I saw Alaskan King Crab Cake on the menu, my first thought was this must be a must-order. However, it was a major disappointment. All of us were commenting that a croquette would be a more meaningful name, as there was hardly any crab bits in the potato filled ball.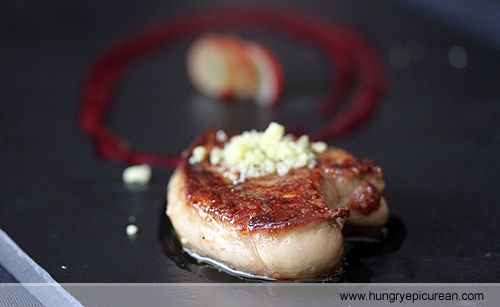 The Foie Gras was decent. I felt that it was a tad undercooked, and I felt that it did not have the crispy crust.
The Seared Kurobuta Pork Terrine with grilled melon and olive crumbs tasted a lot like Roasted Pork.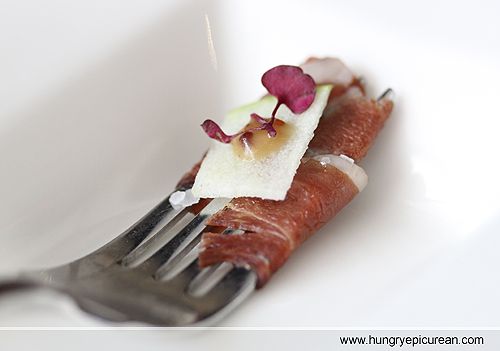 The Duck Carpaccio, topped with a delicately thin granny smith and mustard dressing was decent. Frankly, while it does look appealing to the eye, the portion of the duck carpaccio was far too small to be able to appreciate the layers of flavours in this dish.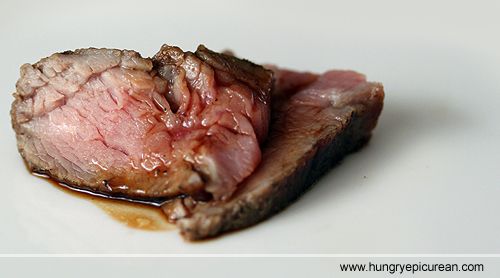 Chef went around every table and personally carved a small serving of beef. While it was cooked perfectly, it lacked flavour.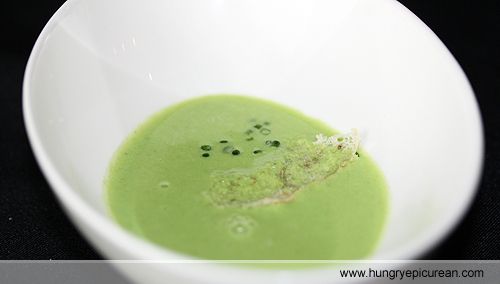 The Soup of the Day was a Green Pea soup. All of us tasted a bit and concluded that it far too salty.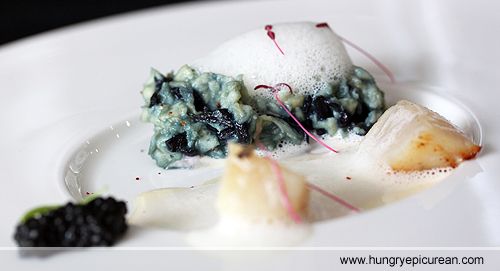 Pleasing to the eyes, and to the tastebuds, the Seared Hokkaido Scallops with lush purple carrot scrambled, avruga and yellow curry emulsion was good. The scallops were seared as how they should be, slightly raw in the middle. Unfortunately, when we tried to order seconds, the kitchen had run out of scallops.
I did not try the Naan Pancake, but in Kaelyn's opinion, it was too dense.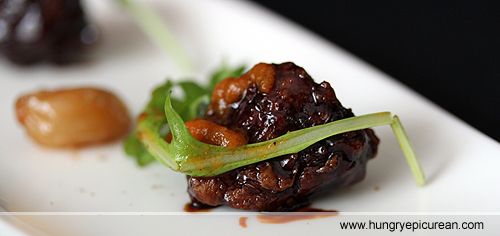 The Kurobuta Pork Ribs with confit onion, arugula tossed in papaya seed dressing was decent. Sweet and tender , it was.
In addition to the ala-carte appetizers, there is an self-serve oyster bar with different accompaniments such as smoked miso powder with yuzu jelly, rice vinegar & coriander, namjin dressing and carrot puree.
Enough of appetizers, on to the main course, we go.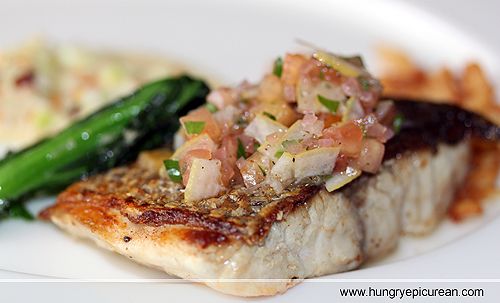 The fish of the day was a pan-fried barramundi. "Fresh and not overcooked with a crispy skin and soft flesh. – myfoodsirens"
My order of Kurobuta Pork Belly with shimeiji mushroom, black pepper star anise sauce was okay, except for the fact that, I felt that it contained far too much fat, and that made a dish, a little jelak. The taste of the pork tasted reminiscent of Traditional Roast Pork, again.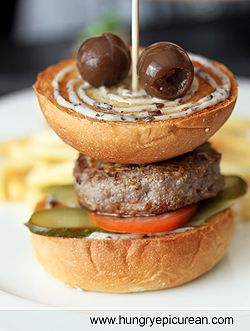 Phoebe ordered the Wagyu Beef Burger  with balsamic onion balls, chips and truffle mayo. "Moving onto the beef patty itself, juicy and meaty though wagyu beef in a patty is hard to discern. The gherkins used were just right, not too sour! Overall a hearty burger, I like how the burger was not a least bit soaked by the time I reached the last bite. – thefoodchapter"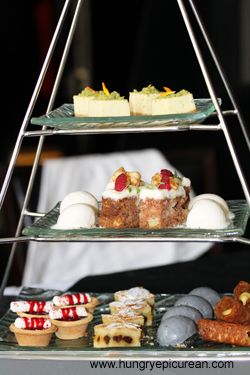 Desserts were served in a three tier setting again.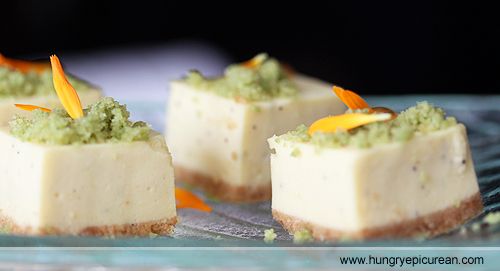 Private Affair's rendition of the Passionfruit Cheesecake with pistachio crumbs was light. Personally, while it was a good dessert, I prefer my cheesecakes to be full of cheese and denser. Why would you call it a cheesecake otherwise?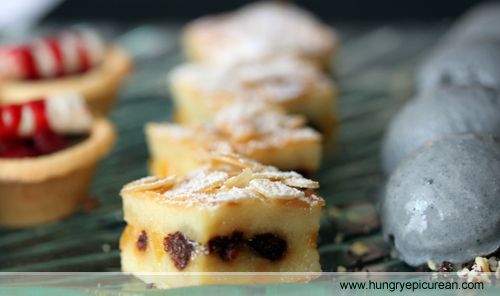 Bread & butter puddings
Lemon cured hazelnut cannelloni.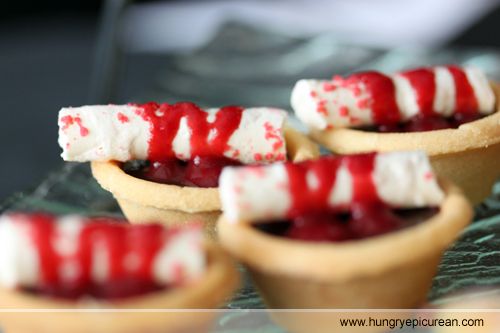 Chocolate tarts with raspberry coulis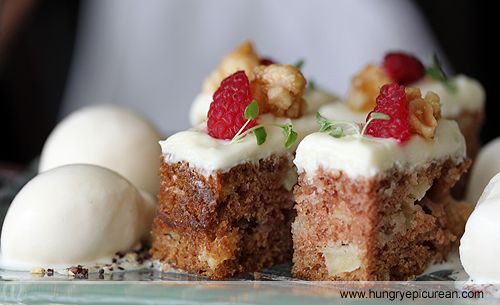 These 2 desserts were my favourites. The dessert of the day – apple cake and lemongrass ice-cream. Both of them were my favourite desserts, out of the entire platter. All of us opted for an additional helping of the lemongrass ice-cream.
Thank you Chef Paul for inviting us and to the team at Private Affairs for hosting us.
Private Affairs
45 Joo Chiat Place
Singapore 427769
Tel: (65) 6440 0601
http://www.privateaffairs.com.sg/
For menus, please click here.