BLIC Ice Cream
BLIC Ice Cream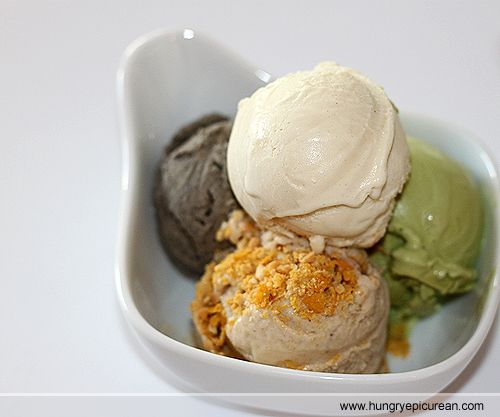 After a food bloggers' outing to Halia, all of us travelled to Tampines on a special invitation to the preview opening of BLIC.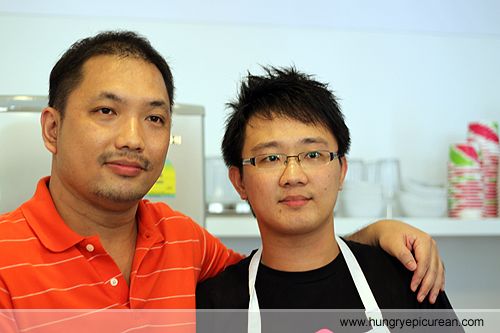 The very first question I had in mind was, why was the nice cream cafe named BLIC? I later found out that the cafe was named after its two owners, Ben and Larry (pictured above). Rather than sound like a cheap imitation (ala Ben & Larry's), they chose BLIC – Ben and Larry's Ice Cream.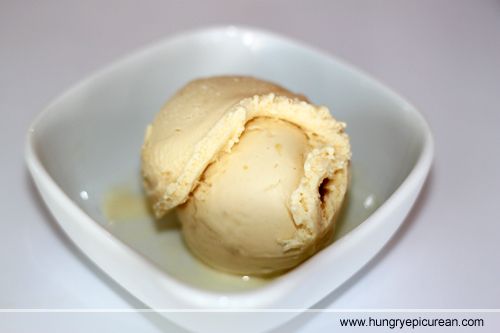 The Cempedek was truly an accquired taste – plasure to those who appreciate it and a pain for those don't.
While the Passionfruit Yogurt ice cream was smooth, all of us present agreed that instead of passionfruit, it tasted reminiscent more of sour plum instead.
Not many can turn Baileys into a good ice cream but BLIC's rendition did just that!
The Rum & Raisin was great for it contained large raisins and a liberal amount of rum.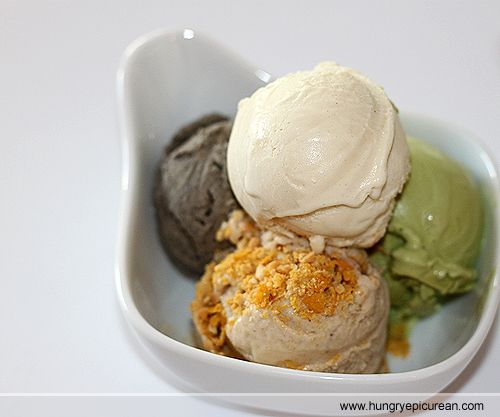 Pictured above are the Banana Peanut Crunch, Green Tea, Black Sesame and Seasalt Malt.
The Green Tea, tasted much like Matcha except that it was a tad sweet for my liking. The Seasalt Malt tasted reminiscent of a good cup of Horlicks.
The "SCaM" (a light mixture of soursop, calamansi and martini) was decent. It was a tad sweet for me though.
Admittedly, while the Bird's Nest with Almond sounded interesting, I was slightly disappointed that it was more more almond-flavoured than tasting of bird's nest.
Similar to Awfully Chocolate's chocolate cakes (as claimed by Harris) the Double Chocolate was rich and think.
The Ferrero has bits of nuts in it and tasted almost exactly like the Ferrero Chocolate itself.
The Dino Milo was exactly like how a cold Milo drink would taste like, had it been prepared as an ice-cream.
I loved the Vanilla for it contained, within it, visible specks of fresh vanilla. A Mexican Vanilla variant was also available.
The Mao Shan Wang ice cream had got to be my favourite flavour. Intense and full bodied, just as how I like durian ice creams to be.
The Lychee ice cream (in the background) had lychee bits both inside of it and on top of it.
Being a coffee lover myself, I loved the full-bodied and un[retencious Coffee ice cream.
Thank you Ben and Larry for inviting us to your cafe and I wish both of you, all the best!
Prices
Single Scoop Classic/Premium: $3.20/$5.20
Double Scoop Classic/Premium: $4.80/$7.80
Double Scoop Mix: $6.30
Milkshake Classic/Premium: $5.80/$8.80
BLIC Ice Cream Cafe
Blk 802 Tampines Ave 4 #01-23
http://www.blic.sg/