Bistro du Vin
Bistro du Vin
A recent search for French Bistro food led me to visit the Les Amis group-owned Bistro du Vin. Located at Shaw Centre, alongside La Strada, Les Amis, and Aoki, the interior design has a very casual bistro feel to it.
Reading skinner than the original's post that Consultant Chef Maria Goncalves would be in town for 3 days, I immediately made a reservation and off to Bistro du Vin I went.
My dining partner commented that the complimentary bread served at Bistro du Vin was one of the best ever created! Warm, fluffy and moist in the middle, yet crisp on the outside. Paired with a slab of good French butter, this was pure heaven and a great meal in the making.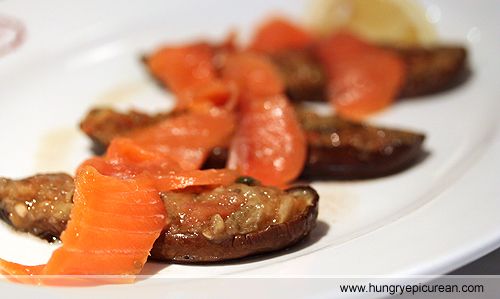 I especially loved the Stuffed Egglant with Tomato and Smoked Salmon (S$14++). Served cold, the stuffed eggplants were tasty with every bite. Drizzled with just the right amount of olive oil, they were a pleasure to eat. The smoked salmon that accompanies the dish were cured just to the right saltiness and perfectly complimented the, otherwise, neutral tasting eggplants.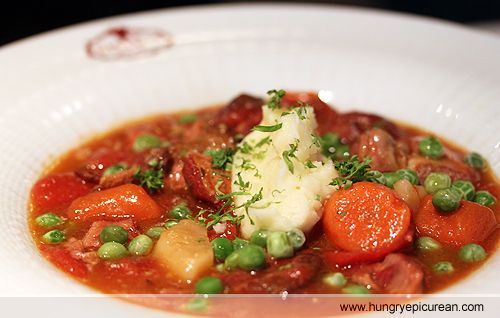 My dining partner's order of the Mama Maria's Lamb Stew (S$32++) was excellent. I tried a little of it, and admittedly while lamb is not one of my favourite meats, the lamb was tender to the bite.  The sauce was yummy! You could literally taste the sweetness of the tomatoes, carrots and potatoes.
For my main course, I ordered the Braised Veal Knuckle & Ratatoille (S$38++). Frankly, when I chose this dish out of the main dishes on the blackboard, it was the novelty factor that led me to order this, more than anything else.
But a wrong choice, it definitely was not! The veal knuckle was one of the best veal dishes that I've had the pleasure of eating. The meat was absolutely fork tender and surprisingly, it tasted no where near gamey.
I love to pair my braised meats plain old mashed potatoes, so I stole some of the mashed potatoes on my dining partner's lamb stew. The gravy was such a lovely accompaniment to the mashed potatoes.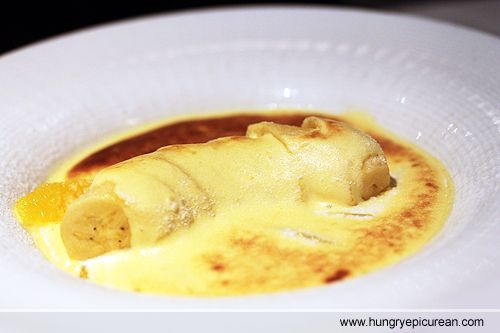 To end off the meal, we shared the Banana & Orange in Rum Sabayon (S$8++).
Zabaione (written also sabayon, zabajone, Italian pronunciation: [dzabaˈjonɛ]; or zabaglione, pronounced [zabaˈʎonɛ]), is an Italian dessert made with egg yolks, sugar, a sweet wine (usually Marsala wine, but sometimes Prosecco), and sometimes cream, mascarpone, or whole eggs. It is a very light custard, which has been whipped to incorporate a large amount of air. Zabaglione is traditionally served with fresh figs. In France, it is called sabayon, while its true Italian name is zabaione  (or zabajone, an archaic spelling).

Source: wikipedia.org, Last Accessed 18th March 2010.
It was definitely a very satisfying meal that I had at Bistro du Vin. I've not dined here prior to Chef Maria's visit, but if the food served here is 80% that of Chef Maria, I would definitely return. I think ice puts it perfectly when she says, "if only Chef Maria would come more often."
Bistro du Vin
1 Scotts Road
#02-12 Shaw Centre
Tel: +65 6733 7763
Opening hours
Daily 11.30am–2.30pm, 6.30pm–10pm