Au Petit Salut
Au Petit Salut
Have you ever been in this situation when you're hungry, it's late in in the day and you basically just want to have a good meal somewhere where you know you will never get disappointed? I have, on many occasions in fact. And on this particular occasion, a re-visit to Au Petit Salut was in order. Need I mention too, that the free parking was definitely a pulling factor! (It's amazing how parking charges can add up! I'm pretty sure fellow drivers share my same sentiment.)
See my previous post on Au Petit Salut here.
I like to start my meals at Au Petit Salut with a cocktail. And more often than not, it usually ends up being the Pina Colada (S$9++), a sweet, rum-based cocktail made with hard rum, coconut cream, and pineapple juice, served blended with ice  I don't care if you think that it is a feminine cocktail; I love it nonetheless!
Admittedly, while they don't make the best Pina Colada, the cocktail that they whip up here is above average! Certainly miles ahead of that from Picotin. (More on that soon)
My dining partner had the Set Lunch which went for S$30++ per person while I had the S$58++ per person Executive Set Lunch. For both set lunches, you get 1 appetizer, 1 main course, 1 dessert, ending off with a cup of either coffee or tea.
My dining partner's order of the Vegetable Soup of the Day was decent. While the Cream of Fennel was offered previously, this time around it was a Cream of Lentils Soup. (Mental Note to self: Never order a vegetable soup, for both of them look almost the same!)
I tried a spoon of the soup and (what-did-you-know?), my comments are almost similar to that of the Cream of Fennel. Being someone who prefers his soups to be rustic, hearty and robust, this fragrant, creamy and smooth just didn't augur well with my taste buds.
My Bisque de crustacée a.k.a. Lobster Bisque was above average! Though world's apart from the rendition that I had at The French Kitchen, this lobster bisque was sure hearty and rustic enough for me to want me, with every single scoop. The lone lobster ravioli that lay beneath the soup was good, al dente in fact.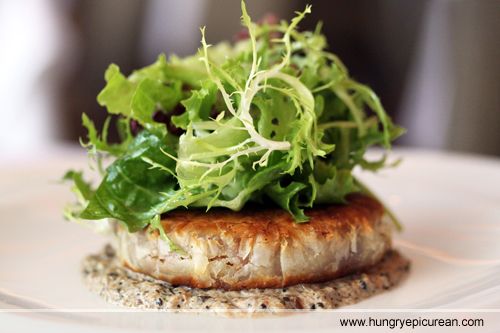 My dining partner's order of the Crispy filo pastry filled with ragout of braised duck, mushrooms purée and salad was excellent. A tad on the salty scale of flavours, but when eaten together with the greens, the combination of  braised duck ragout, filo pastry, mushrooms purée went together very (very) well.
My order of the Filet de bœuf poêlé, polenta en bâtonnet, olive, tomate, romaine et sauce vin rouge, simply put, Pan seared beef tenderloin, with polenta stick, tomato, olives, romaine lettuce and red wine sauce, was perhaps the only disappointment to the great meal that I've had thus far at Au Petit Salut.
The beef, although was requested for Medium-Rare, came out somewhere in between Medium and Medium-Well, thus rendering the meat somewhat on the dry side.
The seasoning was somewhat inadequate, in my humble opinion and and accompanying red wine sauce too mild. On hindsight, an acceptable argument for the inadequate seasoning and mild wine sauce, is to allow us, the patrons, to appreciate the freshness of the meat itself. However, that's no excuse for not getting the done-ness correct.
The beef tenderloin was pan-seared, rather than (how-I-would-have-preferred) char-grilled. While I do understand the differences between pan-searing and grilling, grilling imparts this char-grilled flavour that I so adore.
My dining partner's dessert, the Passion fruit "Blanc-Manger", was a beautiful contrast of flavours. The Blanc-Manger is basically a sweet dessert made with milk or cream and sugar thickened with gelatin (think along the lines of Panna Cotta except the Blanc-Manger being the lighter sibling – Dessert experts, this is only my humble opinion, so if there's a textbook answer, please share it with me).
The passion fruit helps to cut through the sweetness of the (otherwise, boring) Blanc-Manger. A classic example of the sour-sweet combination.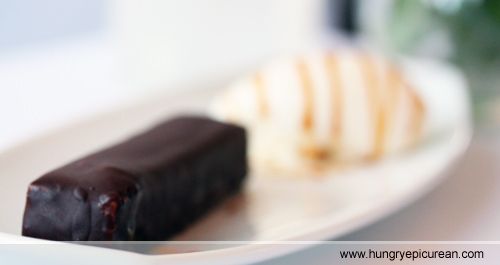 My dessert, the Parfait au chocolat noir, caramel et glace a la vanille, translated as Dark chocolate bar, caramel and vanilla ice cream was excellent. When it arrived onto my table, I let out a big "HUH". "Is that it?", I asked myself. But boy oh boy, how wrong was I, for what a fine chocolate bar, this was!
For those who know me, I am, generally, not a fan of desserts, especially so for very sweet desserts. But this bittersweet dessert was definitely up my alley. Bitter sweet chocolate paired with cold vanilla ice cream, what more can I ask for.
Au Petit Salut
40C Harding Road
Singapore 249548
Telephone: (65) 6475 1976
Website: http://www.aupetitsalut.com/
Operation hours:
Lunch Monday – Saturday
1130hrs – 1430hrs (Last order)
Dinner Monday – Saturday
1830hrs – 2230hrs (Last order)
Closed on Sundays