Private Affairs
Private Affairs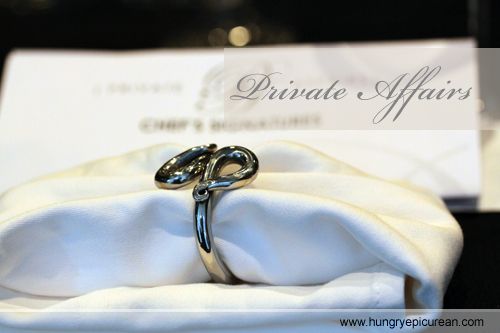 UPDATE (6th July 2012): Private Affairs has since moved to a new location. 25 Boon Tat Street Singapore 069622
Tel. no. (65) 6220 2005
Mention the words, "Restaurant" and "Joo Chiat" and I'll look at you with inquisitive eyes and ask you in return whether you actually meant another road? The whole Joo Chiat area would not be a place you would expect to find a fine dining restaurant. But oh boy oh boy, you are so, so wrong! Therein lies a fine dining restaurant, "Private Affairs". But that, unfortunately, is not the end of the surprise. The food is amazing! The effort that you see the chefs put into plating each and every dish, is magical – something only one with the passion for food would create.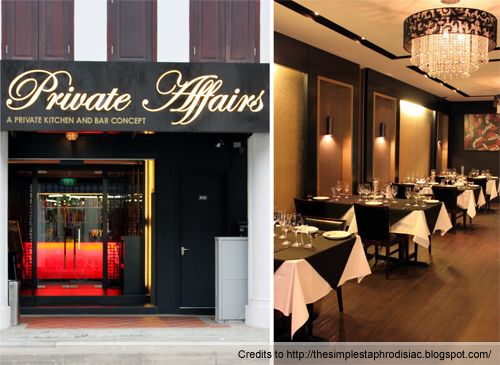 Private Affairs is a 40-seater restaurant situated along Joo Chiat Place serving Modern European cuisine with a touch of Asian flavours.  The kitchen is helmed by 32 year old Chef de Cuisine Paul Ng, who has, in his 15 years of working experience, honed his skills in the kitchens of Les Amis, Saint Julien, Pierside Kitchen and in 2 kitchens of the Burj Al Arab Hotel in Dubai. As mentioned earlier, the effort that Chef Ng put into plating the dishes, shows the sort of passion that only one who loves cooking can bring.
Private Affairs is really an intimate restaurant. Where decor is concerned, think along the lines of Sage and Garibaldi. The dark wood-grained floors, black glossy walls, along with recessed ambient lighting gives the restaurant this very cosy homely feel.
Sidenote: Admittedly while the dishes are plated to perfection visually, his unique plating makes it somewhat difficult for us, food photographers. I apologise if my photographs do not fully bring out the stellar presentation of the dishes. I suppose, all I can say, is that you really have to personally try the food to fully capture the intended beauty of the dishes.
Disclaimer: This dinner was a "by-invitation" only session courtesy of Veronica. Although an invited session, I have written my true thoughts about the dishes. Taste is subjective, so I'll love to hear your comments.
Joined by my fellow food blogger friends, myfoodsirens, thefoodchapter, thesimplestaprodisiac and divine essentials, we set out to explore what Private Affairs had to offer. The dishes that we tried were all from the Chef's Signatures (S$138++ for 6 courses) menu.
Without further ado, I shall let the food do the rest of the talking now.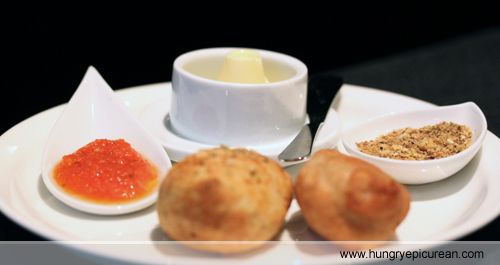 The Focaccia and Hazelnut Bread were served hot fresh from the oven. I love my bread served warm and with that, quarter of the battle is won. At Private Affairs, you are literally spoiled for choice with the dips.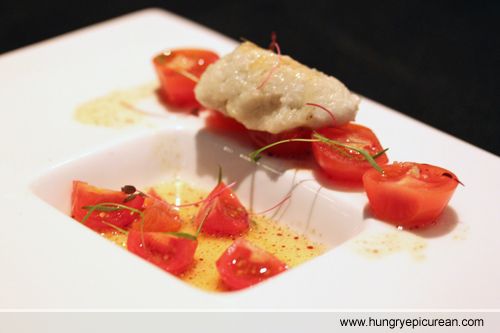 I liked the appetizer of Vine Ripened Tomatoes with Horseradish Meringue and Ginger Flower Vinaigrette so much that I literally wiped my plate clean. The horseradish (wasabi) gave this otherwise ordinary sounding dish a refreshing start to the dinner. An appetizer's role is to whet your appetite and, whet it did!
I've had Beef Carpaccio many times but this was the first time that I've ever heard of Duck Carpaccio being  served. Accompanying the Thinly Sliced Duck Carpaccio were slices of Granny Smith apples and cubes of scallion gel. Unlike other restaurants, Private Affairs cure their own duck and they do so in brine for 3 days before being air-dried. Eaten alone, it was somewhat boring to be frank. But when rolled up, the refreshing green apple slices and sweet scallion gel complimented the duck slices in perfect harmony.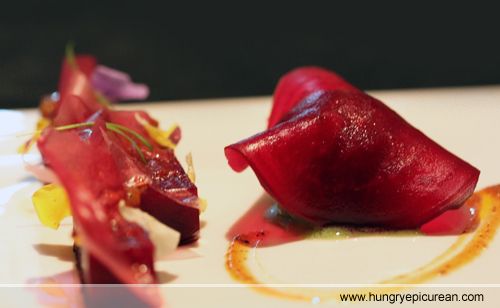 Seeing that Kaelyn does not take meat, Chef Paul specially made her a Beetroot jelly with cucumber and green chili sorbet. Kaelyn commented that she really liked the sorbet as it was very creative to combine the 'heat' of chili and the 'cold' that the cucumber brings to the palate.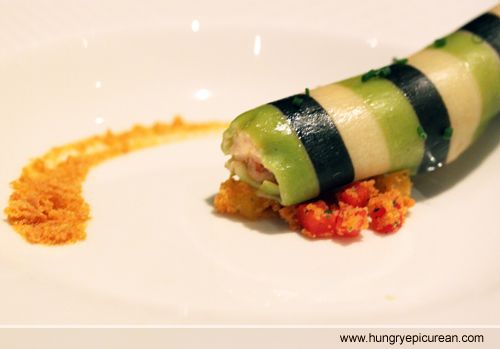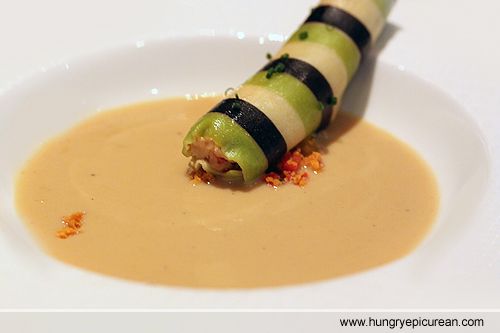 The White Lobster Bisque with Salmon and Lobster Cannelloni, Capsicum and Lemongrass Crumbs is really a piece of art! When served, you will notice lemongrass infused breadcrumbs and capsicums sitting at the base of the plate, while at the other end, a tri-coloured Cannelloni wraps around a mixture of salmon and lobster. I do have to admit, the tri-coloured Cannelloni (with Egg, Squid Ink and Spinach pastas) is no easy dish to make. The Cannelloni pasta, which was hand made in Private Affairs, came in 1 seamless piece.
The server would then bring a container full of creamy and rich bisque to your plate and slowly pouring it in, to ensure that the brother is of the right temperature when served.
Drank together with the Cannelloni, the Lobster Bisque was nice on the palate, alone, it felt one-dimensional. A word of caution, for those who prefer more hearty, more seafood-tasting brother, like those served at French bistros, you may find this white lobster bisque too creamy and mild for your liking.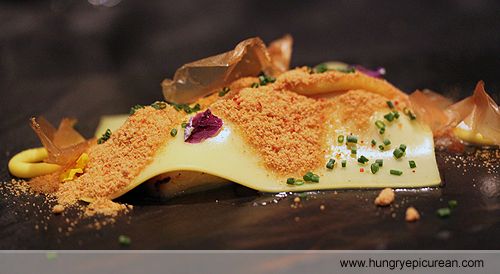 The Hokkaido Scallops served with corn noodles, on a bed of corn, topped with smoked miso powder and bonito flakes was perhaps the only letdown to the evening. Served on a hot plate, the scallops were a tad over-seared, resulting in a somewhat rubbery texture. I am going to give them the benefit of the doubt as, we spent quite a while taking photos of this dish. (Considering how it was one of the hardest of dishes to frame).
Agreeing with the other food bloggers at our table, we found that the dish was a tad too salty. This could have been the result of the smoked miso powder. Additionally, we felt that the overall dish was on the dry side. A sauce to accompany the dish, might have been the better option, instead of the smoked miso powder.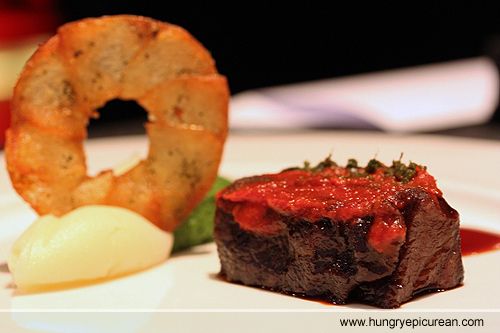 My main course of the Wagyu Beef Cheeks with Potatos, Chinese kale royale, Curry leaf cous cous and Tomato Chutney and port wine grapes reduction was excellent. Although nothing beats the grand ole' dame of serving beef – grilled beef tenderloin, this comes very close. This tender cut of beef cheek is cut into a cube, braised in aged port wine sauce, finished off with a grape juice reduction is somewhat soft. A tad sweet, it was undeniably tender and literally melted in your mouth.
Now now, I hear you – What is the Chinese Kale Royale? It is baby kai lan blended with cream, butter. Spinach is also added to the mix to give it the bright green colour. The Kale Royale was oooohhhh so good! Decadent, it definitely is, but who cares about the added calories when you can go running to your mother telling her, "i love my greens".
The two ladies at our table who couldn't take beef, had this Monkfish cheek in fermented garlic & Oyster glazed, purple carrot, white asparagus, fired up specially for them. We hear, that this was the first time Chef Paul Ng, was cooking this dish at the restaurant. A real treat for them! Chef Paul explained that monkfish is one fish that needs some getting used to. Firmer than other fishes, timing is of the essence when it comes to cooking monkfish as it only gets tougher, the longer you cook it.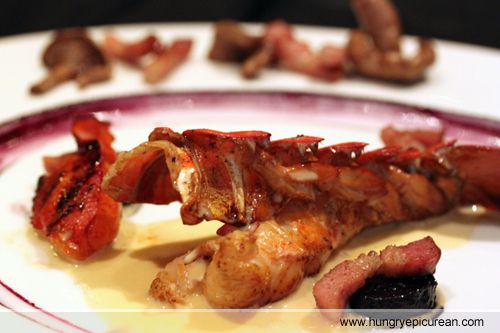 (Not part of the Chef's Signatures menu) Grilled Lobster: served with Espelette jam, sauteed blue foot mushroom, lardon, purple carrot paint, Alaskan crab & Cauliflower foam.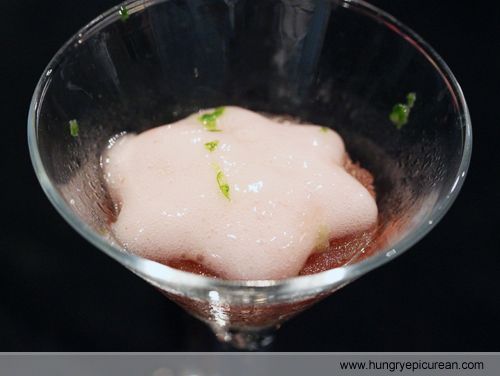 A prelude to dessert is a Mangosteen Lime Granita. Served on a bed of crushed ice, it was revealed that a whole carton (10kg) of mangosteens only provides for 400g of mangosteen puree.  A joy to eat, it was an excellent palate cleanser, especially after a full bodied main dish like the braised wagyu beef.
The Pistachio Tuile and cheese sandwich served with Passion fruit coulis, strawberry and basil gel was decent. Admittedly, I am not a fan of cheesecakes, but I felt that the mixture of sweet and sour flavours blended well. Taste aside, doesn't this dish remind you of the old-school wafer ice-cream sandwiches that you purchase from the uncles at the mobile ice-cream carts peddling along Orchard Road?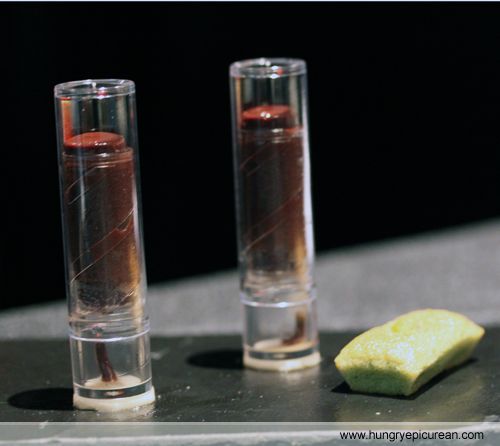 The grand finale to the meal was a simple petit fours. I simply adored the creative presentation of serving otherwise plain old chocolate. Then again, who can say no, to 55% Dark Valrhona Chocolate?
Thank you Veronica for inviting us and to the team at Private Affairs for hosting us.
Private Affairs
45 Joo Chiat Place
Singapore 427769
Tel: (65) 6440 0601
25 Boon Tat Street Singapore 069622
Tel: (65) 6220 2005
http://www.privateaffairs.com.sg/
For menus, please click here.