NUSS The Dunearn
NUSS The Dunearn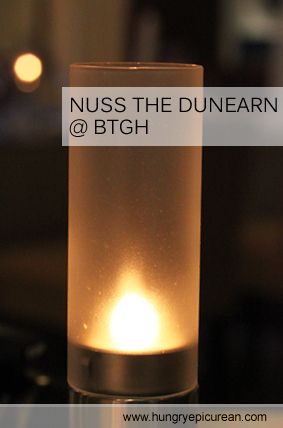 The Dunearn is a restaurant located within the sprawling campus of NUS's Bukit Timah campus. Conveniently located in the heart of Singapore, NUSS's Bukit Timah Guild House and its facilities are housed in a quaint, beautifully restored colonial bungalow.
The Dunearn serves contemporary Western fusion cuisine  just a 10 minute drive away from Singapore's main shopping belt, Orchard Road. A standalone colonial bungalow, set admist a tranquil environment, lush greenery, and laidback atmosphere were just asthetically pleasing to the eyes. An outdoor patio completes the painting. Personally, it felt somewhat remisicient of Au Petit Salut at Dempsey.
Let truth be known, if not for the kind invitation from The Simplest Aphrodisiac, I would never have had a whiff of this restaurant. Joining us for this dining adventure was Hui Yuan from Lovin' Greens.
Both Harris and myself opted for the 5-course February 2010 set dinner which went for S$39.80++ comprising of a cold appetitizer, a soup, a warm appetitizer, choice of a main course (from 3 choices), a dessert and choice of coffee/tea. Hui Yuan on the other hand, on a diet, decided to only have 1 main course for her dinner.
With the  price and number of courses in consideration , it would be a stretch of the imagination to think that the food served would be any good or be served in filling portions. But, for once, reality trumps over imagination, for not only did the quality of the food come through, the portions served were more than what I would usually deem as reasonable!
By the time, I had reached the restaurant, it was relatively late in the night and to put claim that I was hungry would be a severe under-statement. Thankfully, complimentary foccacia bread was provided; warm and soft, when served (just the way I like it). A hint of herbs helped to spice up, what would have been just ordinary bread.
The Aubergine Parcel with bull tomatoes & mozarella cheese was what I was looking for to start my meal. The medley of flavours found in this cold appetizer was simply sweet-sounding to the senses!
The lightly grilled aubergine slices were drizzled with olive oil and matched the sweetness of the bull tomatoes that were contained inside the slices so perfectly. The mild tasting savoury mozarella cheese helped to balance the sweetness of the combination in perfect symphony.
A drizzle of basil pesto and balsamic reduction completed the dish. A light but, but nonetheless refreshing appetizer it most definitely was.
Pardon the pun but the Mixed Seafood Veloute with Tomato received mixed reactions. While Harris commented that the soup tasted, and I quote, "hint of fruity essence and creamy", I felt that the soup was somewhat diluted and a tad bit too creamy.
There were 2 prawns in this soup and upon taking in the first prawn, I commented to my dining partners that it was not fresh. But true to the cliché that, "one bad apple doesn't spoil the whole bunch", the next prawn that I had was fresh, firm to the bite.
For the benefit of my readers, the ingredients of a velouté are equal parts of butter and flour forming a roux (a thickening agent) and a light chicken, veal, or fish stock.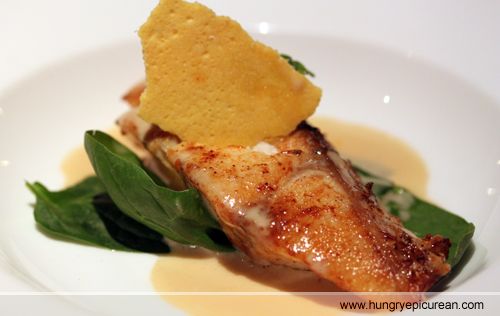 Almost like a main course by itself, the warm appetizer of Roasted Sea Bass topped with a slice of Crispy Parmesan was good. The Dunearn's rendition of this dish was good. Served on a bed of spinach, the fish was roasted to perfection – it was flaky, yet firm at the same time. When touching on  the ability of a chef to cook a  fish, the pinnacle is to be able to keep the fish moist throughout, yet making sure it is cooked through. And moist, this fish definitely was.
A light cream based sauce completed the dish.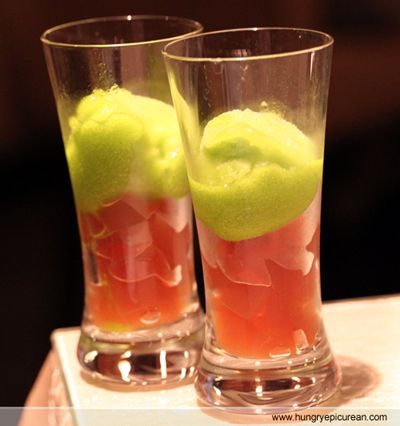 Before the main course, a prelude, or in The Dunearn's terms, an Intermezzo was served. A prelude to the main course, the Green Apple sorbet with ice-jelly helped to clear our palates, refreshing our taste buds in eager anticipation for what was to come.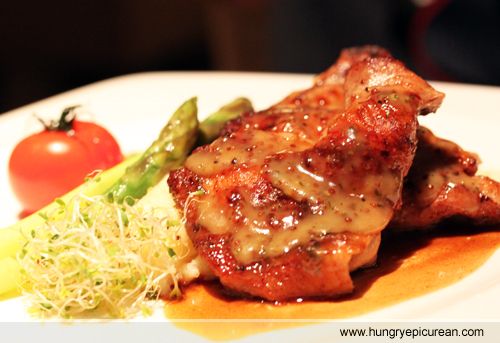 My main of Oven-baked Honey Hustard Flavoured Spatchcock served with garlic crushed potatoes was executed excellently! The meat was moist; Fork-Tender would be the best description that I can give to this dish. The accompanying sauce complimented the dish very well. To add a positive note, this dish was served along with my favourite vegetable of all time – the asparagus.
I'm not someone who admires eating chicken skin, so when Harris, the 'Connoisseur', asked if he could have the skin, I most willingly agreed. He finished all of it in 1 bite, so I'm assuming that it was all yummy!
For the benefit of my readers, Spatchcock refers to the a chicken or game bird split down the back.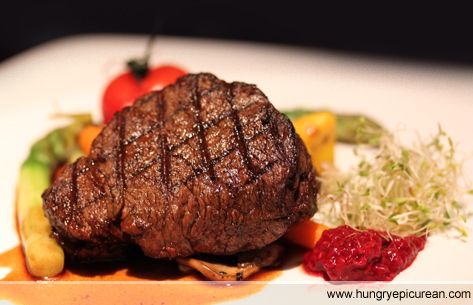 Harris, being the meat aficionado he is, he ordered the Fillet Mignon served on a bed of Raspberry confit & Red wine Sauce. Admittedly while he had chosen to have his Fillet Mignon served Medium-Well, he exclaimed that the beef was a tad overcooked (Think Well Done), and would have preferred something a little rarer.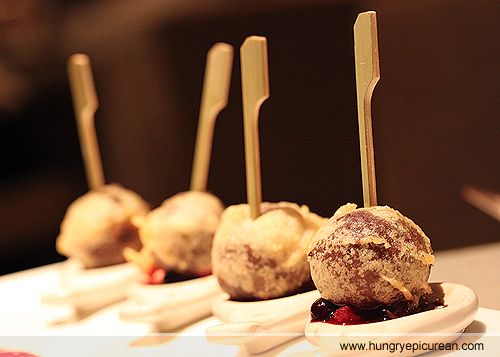 The Battered Valrhona Chocolate with raspberry coulis & vanilla gelato was something that was oh-so-decadent yet if given a choice, I would definitely order it again. The chocolate balls were battered and fried. The insides were wet and runny, think along the lines of a minature molten lava cake and you will get the picture.
This dessert is all about keeping a balance. Sour with Sweet. Hot with Cold. The slightly tart raspberry coulis helped to cut through the sweetness of the chocolate ball, in one harmonious creation.  The cold vanilla gelato on the side, when eaten alongside the hot chocolate ball, strikes a balance of temperature when combined in your mouth.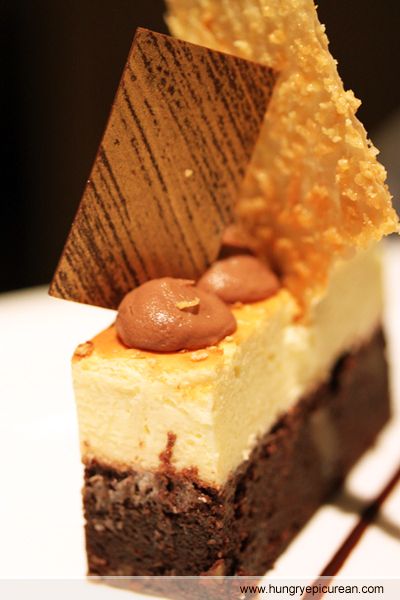 Harris's dessert order of The Double baked cheesecake brownie with macadamia nut ice-cream was, as you would expect, heavy. Did anyone tell him that it was a cheesecake? While I felt that the macadamia nut ice-cream was not something up my alley, Harris was of full-praise for it!
Finally, but worthy of discussion is The Dunearn's quality of service. In this age where quality service is paramount, especially in today's highly competitive restaurant scene, The Dunearn's quality of service is commendable. A wait staff was always a 'raised-hand' away, our glasses were kept full and the wait staff always had a smile on their face.
I would definitely recommend one and all to visit NUSS The Dunearn @ BTGH. For S$39.80++, a 5-course meal of this calibre is certainly value-for-money.
Let me know what you think!
The Dunearn @ Bukit Timah Guild House
1F Cluny Road
Singapore 259602
Tel: (65) 6586 3263
Opening Hours:
Lunch
Mondays to Sundays
11.30am to 3pm (Last order at 2.45pm)
Dinner
Mondays to Sundays
6.30pm to 10pm(Last order at 9.45pm)
Website : http://www.nuss.org.sg