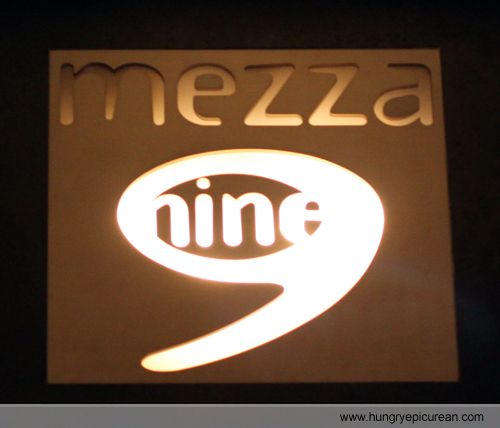 To many, mezza9 comes across as a decent restaurant in a five star hotel along Orchard Road, serving average cuisine catering to the upmarket tourist crowd. So, I hopped down to mezza9 to either dispel or confirm the myth.
While smart casual's the dress code, casual and laid back would be the best way to describe the ambience. Walking up a long and curvy flight of steps from the lobby, you are welcomed by a receptionist who will assign a service staff leading you all the way to your table, all this while, addressing you by name.
However, the tables are placed far too closely to one another. So please save all those sweet nothings for another place, another time. Unless, of course, you plan to get your neighbours all envious of your lovey-dovey conversations!
Upon first looks, the menu looks extremely impressive. They seem to be serving food from every cuisine; with the exception of perhaps Italian (But that's where Pete's Place comes in). There are choices from the Chinese (e.g. Ee-Fu Noodles) to Japanese sushi and yakitori.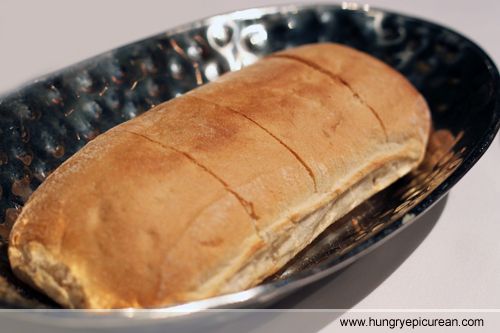 The complimentary bread was served warm and while it was nothing to shout about, it was warm. Many restaurants seem to forget that bread has to be served warm to retain its softness. Unlike the ever-s-common olive oil and balsamic or butter dips, the accompanying tomato dip was okay. However, less healthy as it may be, I prefer plain ole' butter to go with my bread.
But fret not, just a simple raise with your hand and a service staff will be right there with you. That knob of butter is never too far away.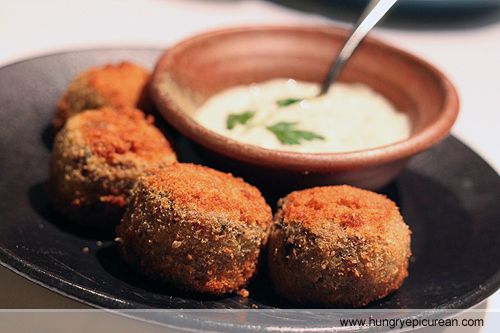 Sharing an appetizer of crab cakes served with a remoulade with gherkins, herbs and capers (S$18++), it was a great way to start the meal proper. The crab cakes were crispy on bite, filled with large chunks of crab meat from south east asian snow crabs. The crab cakes taste great with the remoulade (much like a tartare sauce).
The wood roasted lamb shanks, served with parsley, lemon zest, roasted garlic (S$38++) was decent. I must add that the portion size was quite good! Harris commented that whilst satisfying, the lamb shank could have been more tender. A little overdone perhaps.
Initially, both of us thought it was braised, thus my curiousness as to how a meat can be both over-braised yet tough at the same time. Upon further investigation, we both realized that it was roasted, rather than braised!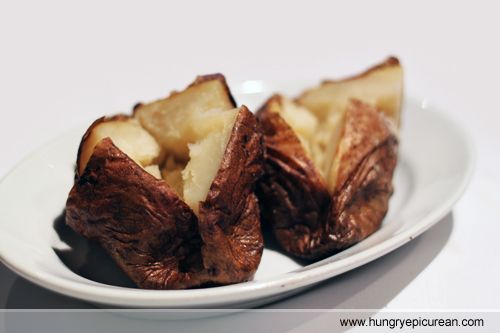 One thing to note, the mains here do not come with sides. You have to order them seperately. Harris ordered a side of baked potato served with bacon, chives, sour cream (S$9++).
Available Side Orders
wood roasted mushrooms, onion, garlic, parsley                    12-
green asparagus, parsley, lemon confit                                  12-
steamed green beans, hazel nuts, thyme                        12-
pan fried potato gnocchi, arugula, parmesan                        12-
grilled or steamed market vegetables    10-
creamed or sautéed spinach, garlic                            10-
seasonal green vegetables, onion, chilli                                        10-
roasted potatoes, onions, sea salt, black pepper                        9-
mashed potatoes                                      9-
french fries                                          9-
baked potato, bacon, chives, sour cream                          9-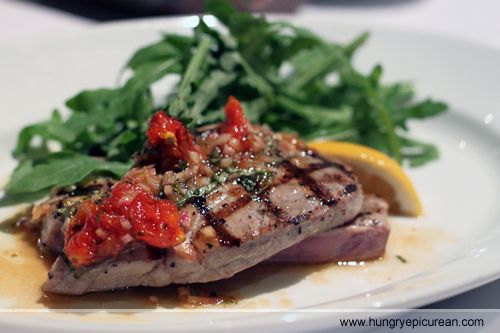 My 200g Tuna steak served with oven dried cherry tomato salsa (S$34++) was excellent. The tuna steak came exactly as ordered – Medium. The tuna literally melts in your mouth. Harris said it tasted somewhat like chicken. I'd have to disagree, for it tastes nothing like plain ole' chicken. However, I prefer Picotin's rendition of the Tuna Steak.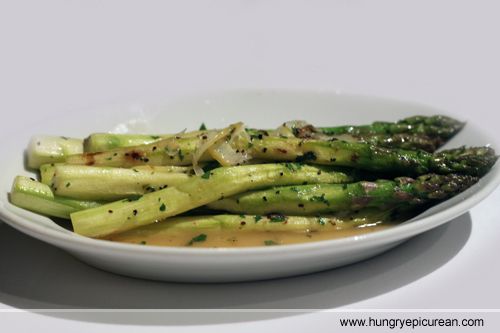 I needed a some greens to balance our my protein intake and thus ordered the Green asparagus, parsley, lemon confit (S$12++) The asparagus were tender to bite and you could literally taste the butter that they were cooked in.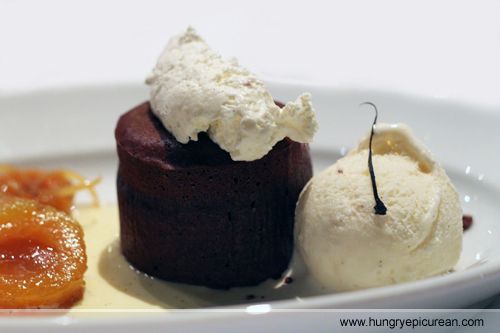 Names can be deceiving and the Soft chocolate pudding, apricot compote and vanialla bean ice cream (S$16++) definitely deceived. Instead of a soft chocolate pudding, it was more of a chocolate lava cake. Harris would have preferred to do away with the compote and have two ice cream scoops in its place to complement the generous serving of the lava chocolate. A heavenly combination, that would have been.
My warm banana and nutella crepe with chocolate sauce (S$14++) was fanatastic. Made on order, the crepe was crispy as crepes should be. It was just the right way to end the meal.
A satisfying meal at a fantastic restaurant. It seems like the myth that mezza9 is but just a decent restaurant in a five star hotel along Orchard Road, serving average cuisine catering to the upmarket tourist crowd, holds no ground.
May I also add that service was excellent at Mezza9. The wait staff are all attentive (even perhaps too attentive, as they kept filling our glasses of water without us asking and that kept both our bladders full) and that made our dining experience an extremely satisfying one.
With such gratifying food and such warm service, I'll gladly return someday.
By the way, from what I understand, mezza9 does get pretty full for dinner on Fridays and Saturdays. So, do give them a call for reservations before heading down, lest' you get disappointed!
mezza9
Grand Hyatt Singapore
10 Scotts Road,
Singapore 228211
Tel: +65 6738 1234
Opening hours
Monday to Saturday 12:00 noon to 11:00 pm
Sunday 11:30 am to 11:00 pm
Dress code
Lunch & Sunday Brunch, Monday – Sunday: Casual (Strictly no singlets for men, running shorts and slippers)
Dinner, Monday – Saturday: Smart Casual (Strictly no singlets for men, bermudas, shorts and slippers)
Dinner, Sunday: Casual (Strictly no singlets for men, running shorts and slippers))