Le Bon Marche
Le Bon Marche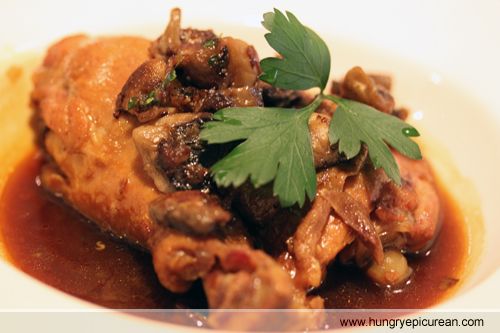 Le Bon Marche is situated next to my favourite Italian joint, Al Borgo. Having walked past the restaurant on a couple of occasions, I was rather impressed by the menu that was placed strategically at the door.
Le Bon Marche had recently moved out from Tiong Bahru to their new premises in Bukit Timah. The Bukit Timah outlet combines both a French bistro and a upmarket grocery store. I have to admit that the decor is sparse with no more than 10 wooden tables. Admittedly, I thought that the smell of the cheeses that emanated through the restaurant was a tad too strong for my liking.
The Chicken Saute "Chasseur" (S$29++), basically Roasted Chicken with Mushrooms & Cognac-Natural Jus was decent. It was rather reminiscent of home-cooked chinese-style black sauce chicken. In truth, I would have preferred the latter. But having said that, I could literally taste the cognac in the sauce, much like how chinese Shaoxing wine or rice wine.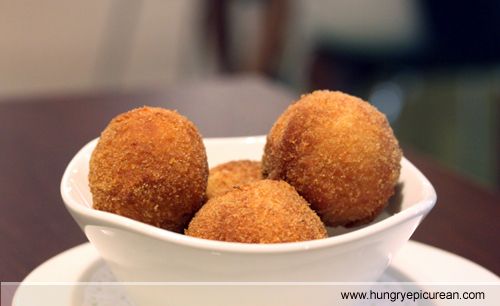 The roasted chicken was served along with a side of Potato Croquettes. Fresh out of the fryer, they were crispy, yet the potato inside the croquette was smooth.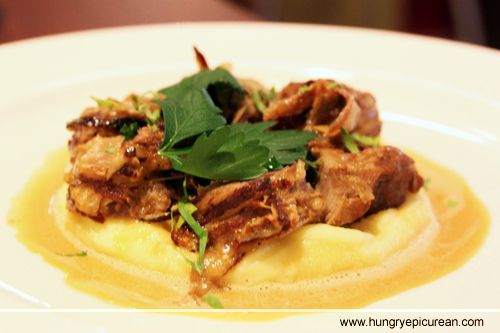 The Berkshire Korrobuta Pork Neck "Charcutiere" (S$35++) was excellent. Served on a bed of wild mushroom ragout, potato puree & mustard sauce, the pork neck was tender to the bite and the potato puree was one of the creamiest mashes that I've had in a long while. The mustard sauce was a great accompaniment to this dish!
The Hot Souffle with Grand Marnier Liquor (S$15++) was a fantastic way to end the meal. Souffles, although seem to be easy to whip up, are hard to be perfect! Souffles are an Art, if I were to put it simply.The trick is to get the right amount of air into your egg whites so that they form nice peaks. I was pleasantly surprised when the waitress brought Mr. Souffle to our table. Well risen, the souffle was soft in the middle yet were firm enough to hold their shape for quite a while, at least until my photo-taking session was over. I thought that the souffle was a tad too sweet, but I  thought that the accompanying bitter-sweet chocolate sauce helped to cut through the sweetness.
Food wise, what I've had was only the tip of the ice-berg. Therefore, I cannot really offer my readers a thorough review. However, from what I've had thus far, this place sure has some promise. However, the prices seem somewhat steep for a French bistro.
Service wise, there was only a Filipino waitress when I was there. Despite having to service a few tables, she seemed to be more than capable of refilling our glasses and was attentive whenever we sought for her attention.
Le Bon Marche (Bukit Timah)
383 Bukit Timah Road
#01-01 Alocassia Service Apartments
Tel: +65 6226 3269
Opening hours
Tue–Sat
10am – 11pm
Sun
11am – 5pm
(Closed on Mon)