Halia Restaurant
Halia Restaurant
Spruce started the trend of Sunday brunches for me. As I've said before, Sundays are the best for sleeping in. And, what better way to start a lazy Sunday then brunch at a restaurant. This time, I headed off to Halia, at Botanic Gardens, with 17 other foodies!
As a fan of food blogs myself, I would blog-hop around a few different blogs, searching for the best hawker centre stall, cafe or restaurant. So when Harris sent out an e-mail with plans for a Bloggers' Outing, how could I say no to the opportunity of putting faces to the owners of some blogs that I read?
Note: Some of my pictures did not turn out good. As such, some of the pictures seen on this blog post were retrieved from Harris' blog. Pictures that are watermarked with the usual "HungryEpicurean" logo were taken by yours truly.
For my brunch item, I ordered the Poached Egg with Ocean Trout ($24.00). The fish was done quite excellently, pink in the center, just how I like it done. However,the poached egg was not as runny as I had initially hoped it to be. Also, I found that the poached egg white was a tad sour, likely the cause of an overdose of vinegar in the poaching liquid.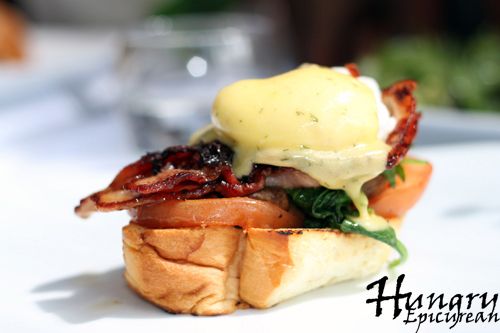 The most popular dish amongst all, was the Poached Egg with Back Bacon ($16.00).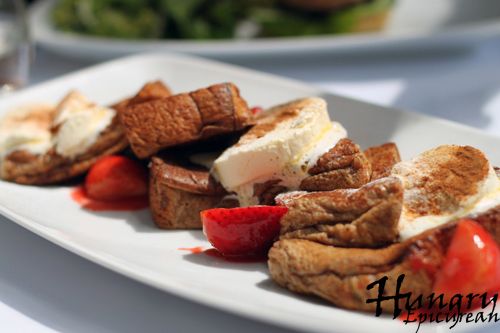 I tried a small bite of the Cinnamon french toast with glazed strawberry ($14). The strawberries were extremely sweet, probably havin been doused in a sugar syrup. Having said that, I just have to add that french toasts aren't exactly up my alley.
The Kurobuta pork and portobello burger with apple aioli and mesclun salad ($18) received mixed reactions from those who had it. If memory serves me well, Daniel gave high compliments to this dish, but Phoebe and Zaylene gave pretty much negative reviews.  I did not try this, so I cannot comment. As cliche as it may sound, "Taste is Subjective"!
We knew we were heading to an ice cream tasting session at BLIC right after Halia, Harris and I decided that we wanted to end this meal on a sweet note. We shared The Cappuccino Dunkin' Pit ($10) When it came onto the table, both of us looked at it and thought, "Wow, this must taste good!"  However, that was about as good as it could get. What we had initially thought as ice cream, was simply cream. The saving grace of this dessert could be that the chocolate biscuits that were served alongside, were delicious!
The other Foodies that came along for the ride include: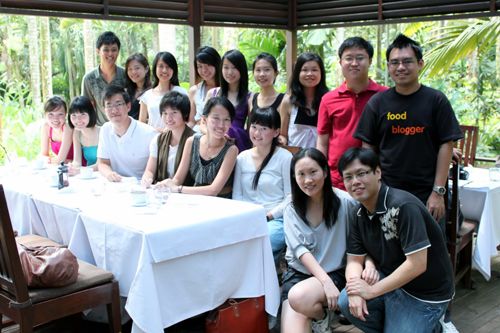 Kaelyn from My Food Sirens
Zaylene from This is Yummy
Daniel from Memoirs of Food
Angeline from Simply Angeline
Reiz from Sitting Wishing Eating
Cheryl from The Baker Who Cooks
Harris from The Simplest Aphrodisiac
Hui Yuan from Yuan Yuan / Hungrygowhere
Fen and Yuan from Indulgence After Workout
Serene and Leanne from NTU Deli Aprecio Club
Phoebe and her sister Chloe from The Food Chapter
Halia
1 Cluny Road
Singapore Botanic Gardens
Telephone: (65) 6476 6711
Opening Hours:
Mon–Fri
12pm – 3pm, 3pm – 5pm (Tea), 6.30pm – 10pm
Sat/Sun/PH
8am –10am, 12pm – 3pm, 3pm – 5pm, 6.30pm – 10pm