Restaurant Ember
Restaurant Ember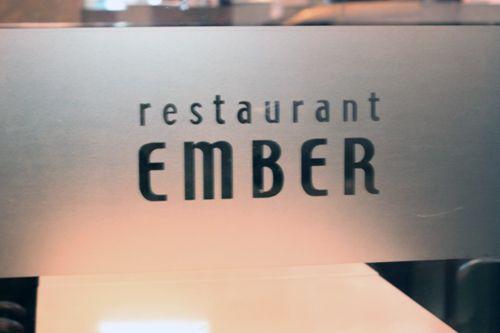 I've been hearing so much about Restaurant Ember at Hotel 1929 for the longest time and I was interested to see if Ember really lives up to the hype.
So off to Ember, Kaelyn and I went!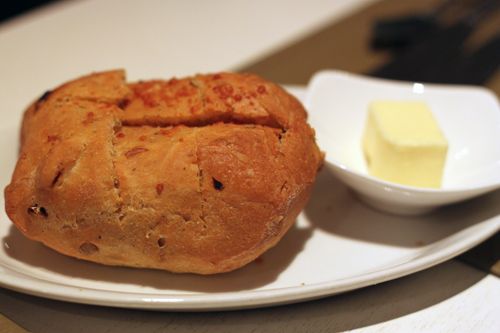 The complimentary Sun-Dried Tomato Focaccia Bread was decent. Complimentary bread, in any case, is just to fill the hunger in patrons while waiting for the appetizers to be served.
Having said that, I do have to add, I was amazed at the speed that the appetizers were served. Before K and myself could finish up 1 serving of the bread, the appetizers were brought to our table.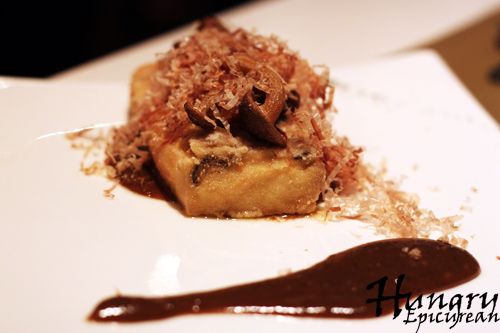 The pan-seared scallops with pumpkin puree was decent. While the scallops were pan-seared perfectly. While Pan-searing scallops may look easy, in actual fact, it is one of the hardest of seafood to cook. A minute can differentiate a mediocre cook from an experienced counterpart.
Initially, I thought that the scallops and pumpkin puree were under-seasoned, but once I dabbed a little of the sauce (darker orange on the picture) onto the scallops, the whole flavour appeal changed and each layer of flavour complimented one another, producing an excellent concoction.
In addition to the scallops, we shared the crispy tofu with shimeji mushrooms and bonito flakes. Frankly, if the ordering was left up to me, I wouldn't have ordered this dish. I mean how interesting can crispy tofu get? Tofus are tofus! But truth be told, the foie gras, mirin & white truffle sauce that accompanied the dish was nothing short of fantastic!
The mains listed on the menu sounded somewhat boring, so I ordered off a recommendation of one of the specials by the waiter. I had the Barramundi with pea puree. The fish was okay.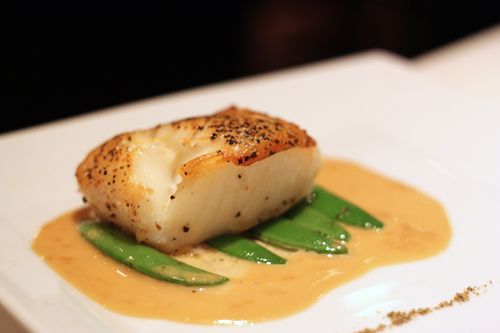 K had this cod, I believe.  (Update: Turns out to be seabass instead)
I tried a bit of it, and frankly it was quite nice!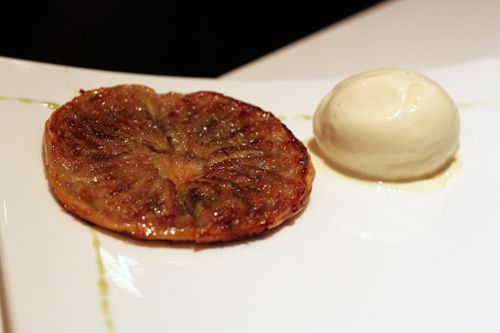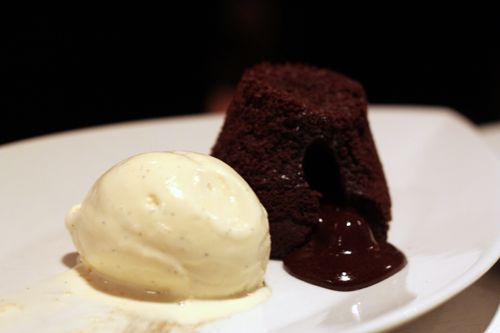 The desserts at Ember were average, at best. Both the Warm valrhona chocolate cake with vanilla ice cream and banana tart with lavender ice cream were decent. That said, I liked the lavender cake that came with the tart. Though for reasons unknown, K didn't like the tart+lavender ice cream. More on that when she does her blog post on Ember, perhaps.
Do note that on a Wednesday night, the restaurant's capacity was maxed out, so reservations are definitely a must. Also, the restaurant closes early, like at 10pm. My only gripe is that the way by which we were 'informed' of the restaurant's impending closing. The service staff just dumped the bill on my table, without a kind notice that the restaurant is closing soon and switched off the air conditioning, and opened the main doors. For a restaurant of Ember's standard, I would have definitely expected more.
Restaurant Ember
50 Keong Saik Road
Hotel 1929
Tel: (65) 6347 1928
http://www.hotel1929.com
Opening hours
Mon–Fri


Lunch
11.30am – 2.00pm
Dinner
6.30pm – 10.00pm

Sat


Dinner
6.30pm – 10.00pm
(Closed on Sundays)