Bonta Italian Restaurant
Bonta Italian Restaurant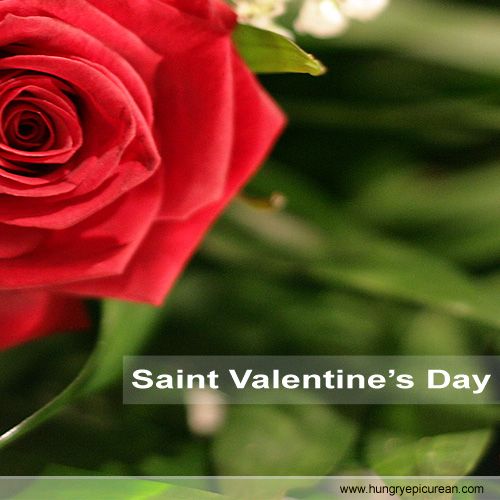 Saint Valentine's Day, this year, coincidentally fell on the 1st day of the Lunar New Year. For many, it would have been a toss between joining in the festivities of the New Year or celebrating Valentine's Day. For the lucky few, like myself, managed to celebrate both.
Strangely enough, even as florists and restaurateurs (clearly) profit from the occasion, many people still splurge on this particular day. Commercialized, as it may be, but I, for one truly appreciate the significance behind Saint Valentine's Day – showing appreciation for someone you love.
Admittedly, if 2 people are truly and deeply in love, to them, every single day would be Valentine's. I could not have put it any better than a friend of mine who commented, that any acts of love on the 14th of February every year would be futile if all the other 364 days were spent arguing.
Valentine's dinner was not an elaborate 9 course, S$15,000 affair;
5 star hotel Swissotel The Stamford's S$15,000 Sky's the Limit package  comprises of a candlelit nine-course dinner – on the hotel's helipad, 225m from the ground – prepared by Jaan chef Andre Chiang.
But rather a simple, albeit an impromptu, 4 course dinner at Bonta located at UE Square. UE Square is located at the junction of Mohd Sultan Road and Robertson Quay. Bonta, specifically, is located at a corner of UE Square facing Mohd Sultan Rd.
Not wanting to be sweltering under the scorching heat, and brave the humidity, we got ourselves an indoor table for 2. The dimly lit interiors added to the cosy ambience of the evening. A personalized menu, printed on Conquerer paper no less, lay waiting on every table for your perusal.
The fixed St. Valentine's menu consists of 2 appetizers, a choice of a main from 2 choices, a dessert and coffee/tea to end off the meal.
A waitress asks for for your choice of drink, still or sparkling, and your choice of the main course and the dinner adventure begins.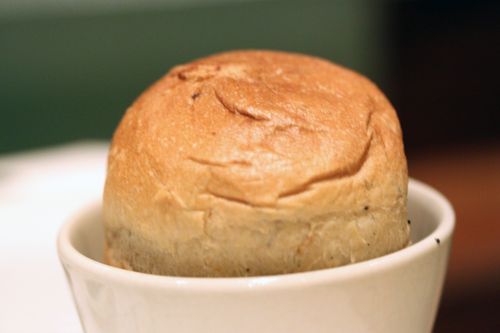 Both of us had heard of Bonta's infamous Complimentary Bread with Feta Cheese and with such heightened expectations, we were hoping that the bread did not disappoint. And disappoint it most definitely did not! Served hot, it was stuffed with feta cheese, sun-dried tomatoes. Moreover, the bread was served in a white porcelain tumbler in a connical shape  which just adds to the visual appeal of the bread.
While there was a pesto-like olive oil dip, honestly, the bread tasted fantastic on its own. Almost like an additional appetizer on its own.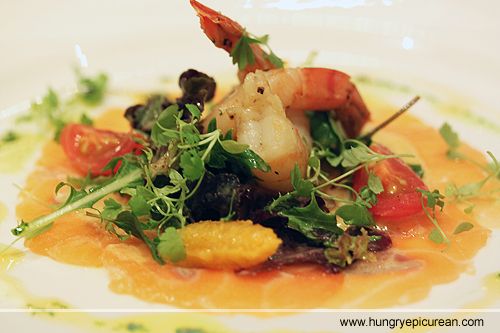 The Wild Scottish salmon carpaccio served with tiger prawns and citrus mint salad was decent. Yes, the Salmon was fresh and the mayonnaise or cream below the salmon helped to cut through any fishiness of the fish (if any). However, I felt that the clincher of this dish had got to be the tiger prawns. The prawns were crunchy to the bite, a tell tale sign of freshness and tasted well-marinated. However, both my partner and myself felt that the citrus mint salad was somewhat over powering. Personally, I would preferred a more gentle approach to the citrus quotient on the dressing.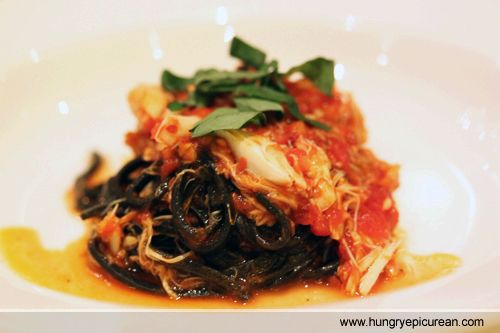 The Homemade black tagliolini with jumbo crab meat in a spicy tomato sauce and basil was great! The pasta was a little less than al-dente, but considering how this was home made pasta, it would have been difficult to achieve  an al-dente bite. Nonetheless, alongside the generous serving of crab meat in the full-flavoured sauce, the dish literally left you wanting for more with every single bite! The crab meat and its jus helped to infuse a yummy seafood flavour to the sauce.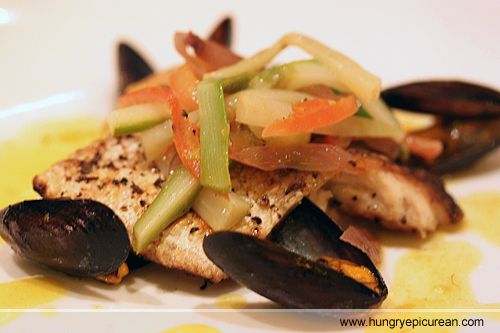 The Pan Roasted Mediterranean sea bass fillet in a saffron black mussel broth was my partner's dish of choice, as she does not take beef. I tried a little and I agreed completely with her comment that while it was decent, she most definitely had tasted better renditions of this dish elsewhere. Add that to the fact that seabass is not one of her favourite fishes. She too, added that the sides and (very small) mussels were not much to compliment on.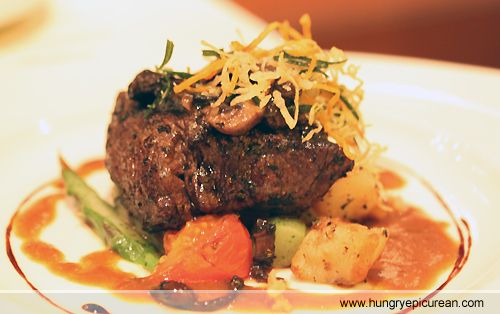 My order of the Grilled black Angus beef tenderloin on Tuscan style roast potato, served with wild mushrooms ragout and foie gras sauce had got to be the star of the day! I had ordered a grilled beef tenderloin at Au Petit Salut a few days prior to this meal and while that was disappointing, Bonta's rendition has got to be one of the better ones I've had in a while! The tenderloin, was cooked perfectly to the doneness I had ordered – Medium and had this char-grilled flavour that I so adore! Tender to the bite yet oozing with flavour upon each bite! May I also add that I was surprised with the decently large serving portion, as I was expecting a much smaller portion.
The white chocolate-raspberry cake served with Baileys sauce and mascarpone cream was decent. As I found out from her, white chocolate and raspberry is a relatively common pairing – Firstly, the raspberry is suitable to cut through the sweetness of the white chocolate and secondly, doesn't the colour combination look lovely?
I'll have to commend that the Bailey's sauce was well prepared as you could literally taste the Baileys liqueur and that was quite the plus point for me. I personally felt that this dessert could have done with a little less nuts for they overpowered the subtle flavours of the dessert. While there was nothing much else to note of this dessert, it put a sweet ending to a delicious dinner.
May I just add that the service at Bonta was nothing short of exemplary – Especially so for the hospitable manager Roberto Ume, who so kindly showed us around the restaurant and private room and talked to us a little bit of his restaurant, his personal life and basically a chat amongst friends. I fall for tiny bits of attention, an attention-seeker, if you must, so that little attention that we was showered with, definitely got my thumbs up for their service. Yes, you get the occasional moments where you have to raise your hand for a while to get the attention of a wait staff for the bill or seeking help with getting photographs taken, but your glasses are never empty and your cutlery always laid out nicely in the proper order in front of you.
A yummy dinner amongst sweet company; what's there not to love?
Bonta Italian Restaurant & Bar
207 River Valley Road
#01-61 UE Square (River Wing)
Tel: (65) 6333 8875
http://www.bonta.com.sg/