Boathouse and Prelude
Boathouse and Prelude
Ask me whether I knew about Boathouse or the Fullerton Waterboat House for that matter a week before hearing of it from Harris, and I would have answered, "What?". Harris first heard of this Contemporary European from a good friend of his. Coincidentally, after Harris and I decided on a date to visit this restaurant, a few other prominent food bloggers posted their reviews of Boathouse, as part of a invited Fullerton Heritage Tour.
Since Camemberu, Lady Iron Chef and The Little Teochew. all positively reviewed this restaurant, one to the extent of bestowing upon it the best new restaurant title, to Boathouse, nothing held us back from making reservations for a table of 4 with Harris, Kaelyn, Angeline and myself.
Disclaimer: As you read this food review, I implore upon you to read this review with a large pinch of salt, for your experience may differ greatly from mine. Considering, too, that Boathouse was only 1 .5 months old when we visited them and our experience could have been the result of their teething problems.We have made our feedback known to both the co-owner and manager and we look forward to seeing how Boathouse can improve in the weeks to come. A visit 1-2 months later would perhaps change my perception, for what I have written below is my honest and truthful opinion of the experience that I had.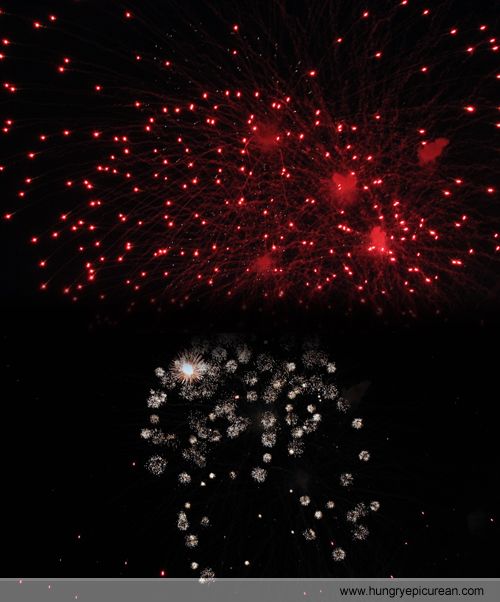 Admittedly, the restaurant has a wonderful ambiance and location, with a magnificent view of the Marina Bay area. With the impending opening of the Marina Bay Sands Resort, the scenery can only be amplified from where it currently stands today.
While we were there, it just so happened that there was an opening ceremony of some sort and all of a sudden, fireworks lighted up the night sky. A night to remember along with great company. Just as the fireworks display came to an end, dinner awaits us.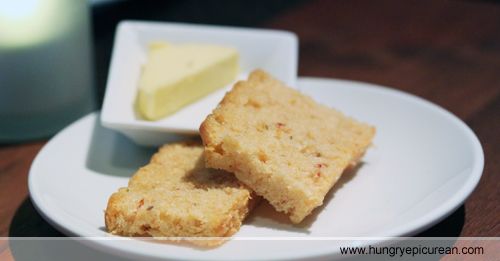 The Complimentary Bread was well, average at best. The bread was cold causing it to be extremely dry. While all of us were starving, neither of us actually managed to finish a slice of the the bread. Interestingly, I find it hard to fathom why the ladies at our table were served with 2 slices each, while Harris and myself were only served a slice each. Is it a new fad, I wondered?
The Fish Chowder, is supposed to be one of the Boathouse's signature dishes. I cannot describe it any better than Kaelyn has,
"the gimmicky interesting presentation appealed more to me than the chowder itself." – Kaelyn
A wait staff will pour Hot Chowder  from a teapot onto the seabass carpaccio in a clockwise movement, until the fish is fully submerged. The heat of the soup is supposed to cook the fish slices.
I thought the fish soup was decent, powdery at some parts.  A diamond in its rough, I think putting it through the strainer one more time would make this more appetizing to taste.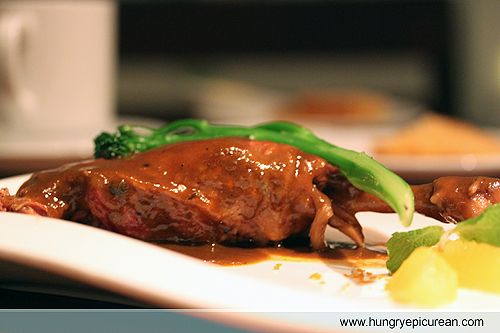 Upon consultation with the waitress, Angeline ordered the French Smoked Duck braised with mint in orange-infused Frangelico ($26++). She commented that the duck was far from tender, comparing to that she had at Cafe Oliv. I didn't try any, so I can't comment.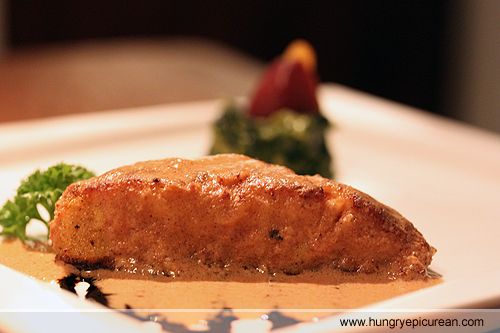 Kaelyn was all smiles with the way her Black Cod served with Japanese plum jus ($31++) turned out. Coming from someone who only eats seafood (mainly fish), this says a lot! Unfortunately, yours truly didn't try this too, so I can't comment.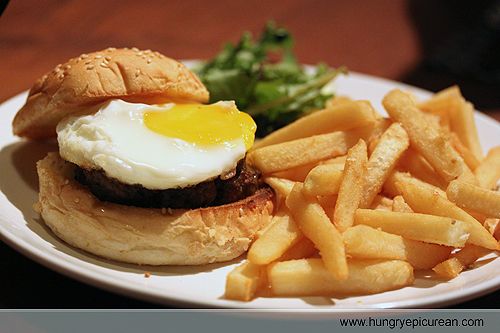 Being the carnivore he is, Harris spied from the website that the prelude kitchen served a Wagyu Burger ($25++).  I thought that it was quite the act of good faith that they allowed the prelude burger to be served in the Boathouse's premises, considering how they had to physically bring the food down.
However, Harris was far from pleased with his burger as he felt that the beef patty was a tad too small and that the fried egg was burnt, thus the blackened appearance.
(Manager's Comment: Wagyu beef is expensive and thus the small portion.)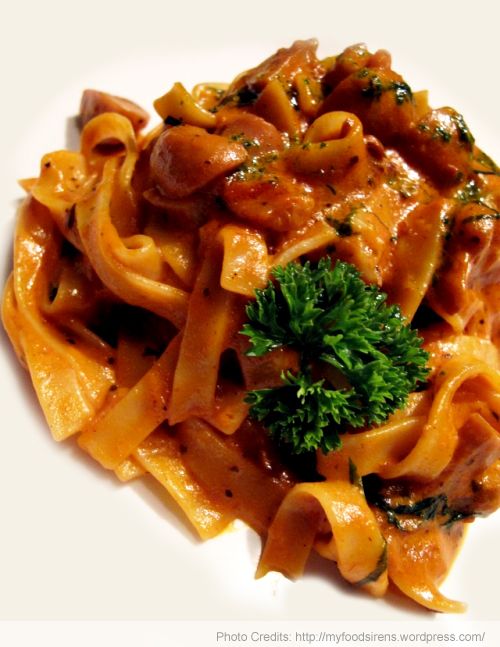 It's funny that I ordered this Tagliatelle Wild Mushroom in a truffle cream rose sauce ($19++) but my own photograph of this dish was ruined and had to resort to stealing a photo of it from Kaelyn. I felt that the pasta was way, way over-cooked. On that note, no restaurant comes close to Valentino's when it comes to Al Dente pasta!
Kaelyn stole a bite of my pasta literally from under my nose and she wondered "where's the aroma of truffle?". And oh boy, how spot on she was. I felt that the aroma of truffles was lacking. Considering that perhaps the mushrooms were tad overpowering in flavours.
So far so good, we thought. With a few hits and close misses.
So off to the rooftop (Prelude), we went, in search of a charming ambiance and mouth watering desserts.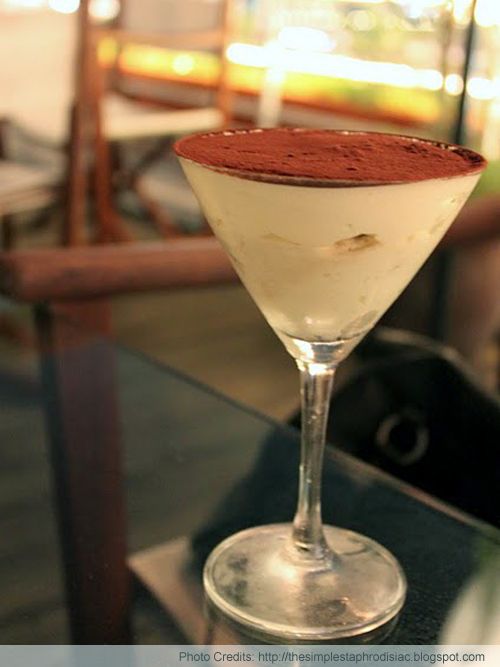 The Signature dessert of Boathouse was the Signature Tiramisu ($12++). It most definitely, was designed for the alcoholic in mind. You could literally taste the whiskey, more than anything else in fact. I thought that the tiramisu, could have done with a little less alcohol and have a somewhat more balanced taste structure of mascorpone cheese and soaked ladyfingers. Good tiramisu is not all just about having lots of alcohol in it.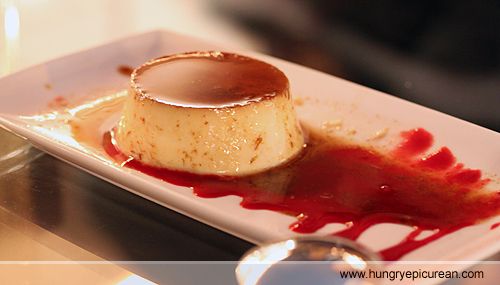 The Panna Cotta with wild berries compote ($11++) was alright. Panna Cotta is my all time favourite Italian dessert and while I felt that the panna cotta was far too soft for my liking (Of course, nothing beats La Noce's unset Panna Cotta), taste wise, it was decent. Again, it is in my humble opinion that, Perla's rendition has got to be the best Panna Cotta available in Singapore.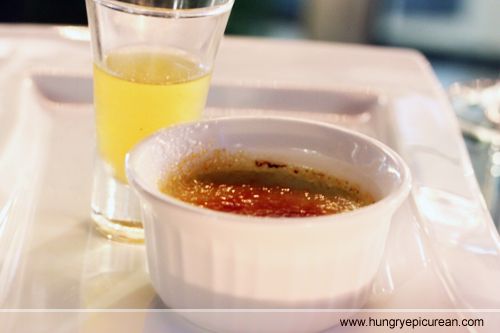 The Creme Brulee infused with Lemon Verbena served with Licorice Reduction ($15++). The creme brulee was decent. The Lemon Verbena helps to cut through the extremely sweet custard, though only slightly. The licorice reduction, meant to clear your palette after the dessert, was more of a formality rather than an effective measure. The Japanese offer tea to clear one's palette after desserts and perhaps that's where they got their inspiration from.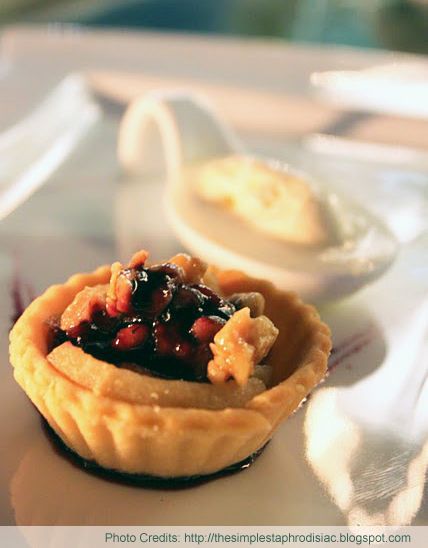 Well to quote Harris, who quoted from Kaelyn,
"The shocker came when the Baked Apple Tart ($12++) was served". – Kaelyn
The apple tart that you see above is exactly how it was served. For $12 dollars, you get not 3, not 2, but ONE tartlet with a small scoop of ice cream. Usually seen only at the dessert counters of buffet spreads, it was certainly an eye-opener for all of us seeing it served at a restaurant! It was seeing how this apple tart was served, that we approached the c0-owner (who we had thought was the manager).
Having said that, the co-owner was a nice lady but her excuse that the size of the tart was the result their fine-dining ambitions, came across as weak, fragile in fact. I'll have to agree with all the bloggers who have covered Boathouse before me that it was simply ridiculous to pay $12 for such a small portion.
Ladyironchef mentioned in his review that the tartlet was only applicable for the tasting session, only to find out later from us that they are still being served for the full price. I fully agree with his statement that, "Please do not order the apple tartlets until the restaurant made changes to it."
Closing Statement
Boathouse has received fairly decent reviews from the blogosphere recently but I personally feel that many areas of their operation can be worked on and tweaked upon. Service was clearly lacking, but understandable considering the fact that Kannan, the manager, mentioned to us that some of the staff were brand new at their job.
Kannan, the manager, was clearly open to our comments and for an up-and-coming restaurant, that can only mean 1 thing – progress. I was more than happy to find out that he had waived off the cost of the desserts from the bill, considering that none of us were planning on having any part of the bill waived.
Once these teething problems are out of the way, including the impending arrival of an Executive Chef, as Kannan had mentioned,  I am sure Boathouse and Prelude will be able to succeed, considering the terrific ambiance and scenery that it offers.
On that note, I look forward to visiting Boathouse and Prelude again in 1-2 months time to affirm my faith in this young start up.
Boathouse and Prelude
The Waterboat House
3 Fullerton Rd #03-01
Tel: (65) 65389038