Sundays are the best for sleeping in. And, what better way to start a lazy Sunday then brunch at a restaurant. I met up with Harris of The Simplest Aphrodisiac fame, over brunch at Spruce.
Spruce is tucked away along Tanglin Road, 2 bus stops from Redhill MRT. Located on the right of the entrance of Phoenix Park, Spruce is housed in a colonial building of sorts. The decor of the restaurant fits the concept of how a Sunday brunch perfectly. Spartan white walls, with mirrors and glass line the restaurant.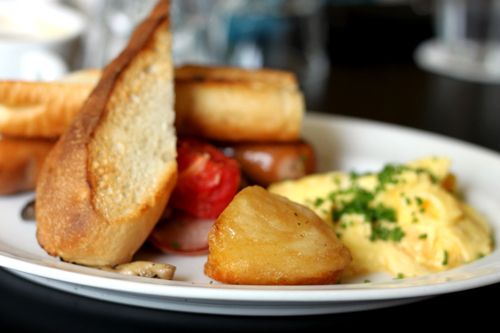 I ordered The Spruce Big Brekkie ($16). it came with Scrambled Eggs (You can have it Poached or Sunny Side Up), Bacon, German Sausage, Roasted Tomato, Grilled Potata and Roasted Mushrooms w/ Toast. I found the eggs to be slightly over cooked and devoid of any buttery, creamy flavour. The German sausage, on the other hand, was great! Literally left you yearning for more, with every bite!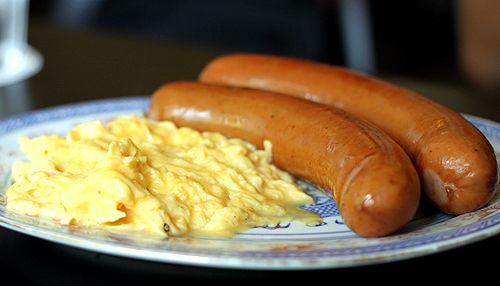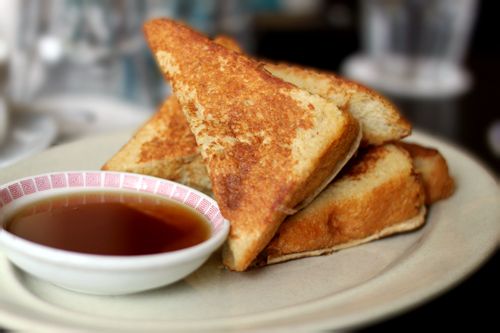 Harris ordered his sides for breakfast. Initially I was wondering why he chose to order as he did, rather than as  set. Later, I found out, he does not take pork for religious reasons.
Having said that, I have to say, the French Toast was a great value-for-money deal. For $5++, you get 4 thick slabs of bread. Both Harris and myself were expecting a maximum of 2 slices at most, for the price. The Scrambled Eggs and Sausages fell more or less in the same department in the plus and minus points of my set.
Reservations are a must here as we saw quite a number of patrons waiting outside the restaurant for a table to free up.
Spruce
320 Tanglin Road
Phoenix Park
Singapore 247980
Tel: (65) 6836 5528
Website: http://www.spruce.com.sg/