Sage (CLOSED)
Sage (CLOSED)
Update: As of December 2010, this restaurant has already ceased operations.
Although I have not been to Sage since my last visit more than a year ago, memories of good food and wonderful service still linger in my mind. And it clearly did not disappoint. Had this post been done in 2009, this would and could have been the Meal of the Year 2009.
We have the 4-course Executive Set Lunch. The lunch menu consists of 1 appetizer, 1 soup, 1 main course and 1 dessert. The lunch cost S$45.00++ per person, while a 3-course option costs S$38.00++ per person. From what I understand, the menu changes a little very so often.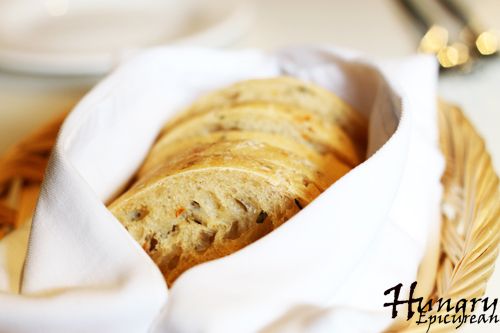 The complimentary bread was served first. Kudos to Sage for serving warmed-up bread. It absolutely annoys me when the restaurant serves beautiful looking bread, only to find out that it was cold. The bread was soft and fluffy, with a traces of carrot and another herb. A great way to start the meal.
And started, the meal did. The Asparagus & Poached egg, coated in Parmigiano Reggiano served on a bed of poached green asparagus, sauce was excellent. The poached egg was runny, melt in the mouth. The asparagus was soft to the bite. My only complaint grouse was that it might have tasted better with a little less chopped onions.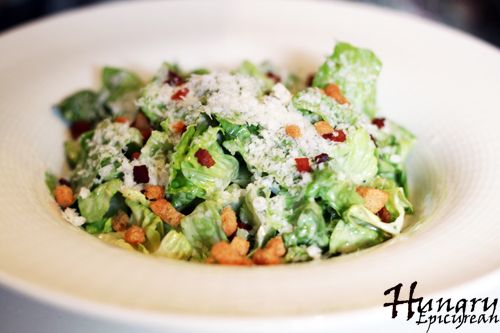 My dad, who never fails to complain about consuming greens (he likens them to a cow eating grass), he liked Sage's rendition of the Caesar Salad.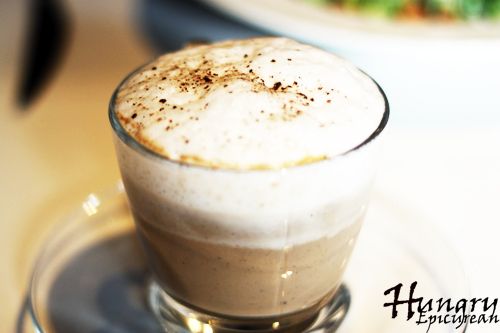 The Cappuccino Mushroom Soup, I had was excellent! The fine texture of the soup complimented by a hint of premium seafood stock, was a great prelude to my main course.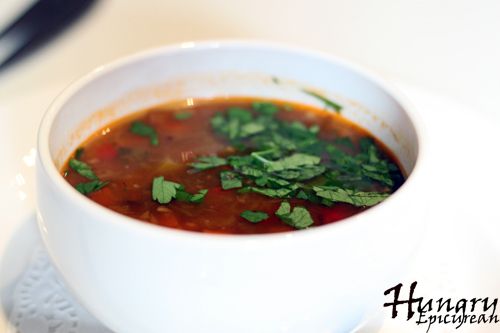 According to my dad, his Minestrone Soup was great. I tried it, and one word immediately came to mind, hearty!
For my main, I had the Duck Leg Confit (S$8.00 menu supplement). Duck confit is one of my favourite all-time French dishes. When I see duck leg confit on the menu of any restaurant, it is highly likely that it will be my order. I've tried versions from Au Petit Salut, Brassiere Wolf to Oosh at Dempsey, to name a few. I dare say, this has to be the best duck confit in Singapore. The skin was crispy, yet the meat was moist and tender. Moreover, you do not have any of that (Short cut) fried flavour that some versions have.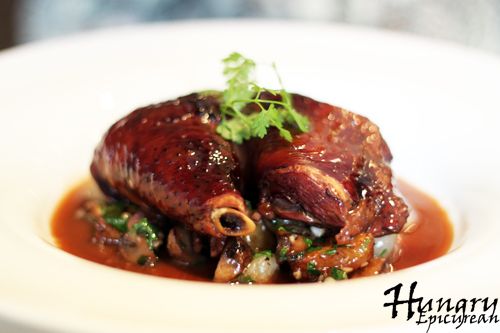 My dad's Coq Au Vin was good. For any dish in any cuisine, timing plays a key role for the end result. Too little a little, and your meat remains tough. Too Long a time, and your meat turns mushy. Sage's version, though, was fantastic! The meat was of the bone tender. You can literally taste the wine in the meat. That just goes to show that the chicken was thoroughly braised in a good red wine stock.
To end off the meal, we shared a Chocolate Fantasy (Ivory white chocolate crémeux and dark bittersweet chocolate velouté with raspberry sorbet, chocolate pearls and nougat). The dessert was most definitely to our liking as both of us have a penchant for dark bittersweet chocolate. The sour raspberry sorbet complimented the bitter chocolate perfectly!
The outstanding food, coupled with the impeccable service provided, Sage, has to be the restaurant of the year! I, for one, will return to Sage again.
Sage, The Restaurant
No. 7 Mohamed Sultan Road
Singapore 238957
Telephone: 6333 8726
Website: http://www.sagerestaurants.com.sg/
Lunch: 12noon – 2:30pm (Wednesday to Friday)
Dinner: 6:30pm – 10:30pm (Tuesday to Sunday)
Closed on Mondays & Public Holidays