Oriental Chinese Restaurant
Oriental Chinese Restaurant
*Note to Readers: This review is from my frequent guest author, CY.
This place had been my supper fix after a night of booze and banging music at The Cannery.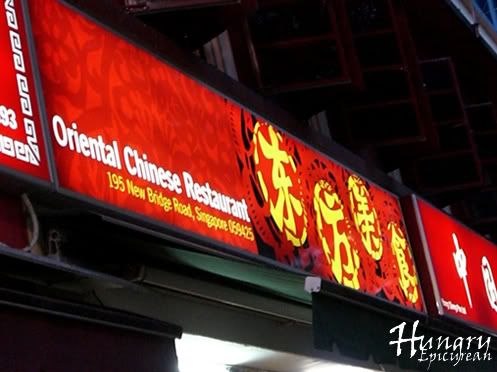 Though not the nicest of place to eat at, their food is as authentic as the Chinese waitresses with their thick accents.  For those that really care about ambiance, this will never be a place you'll eat at.  I brought 2 of my Chinese food deprived friends who, had just came back from Australia to this place.
This place is perpetually packed every day during meal hours, especially duringdinner, with Chinese (The China sort). But getting a seat here in this eatery is not difficult, as they occupy 3 units all side by side.  And you can choose between alfresco or indoor, which is unfortunately, is only mildly air-conditioned.  But they do have very clean practices for the chopstick, spoons, plates, bowls and cups.  They engage 3rd party cleaners to wash them and pack them in air tight-cling wraps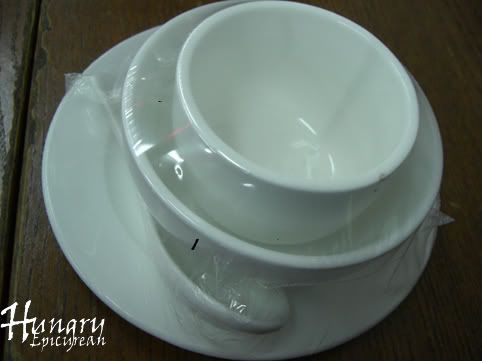 Environmentalist's nightmare and cannon fodder, but its pretty comforting to know that the things that you are using are well cleaned and sanitized.
Their menu is quite extensive and it captures essential essences of Szechuan cuisine and cuisines of other well-known provinces in China.  A word of caution though, since its a restaurant opened by Chinese, for the Chinese, cooked by 100% Chinese chefs, the taste could be a bit heavy for a Singaporean.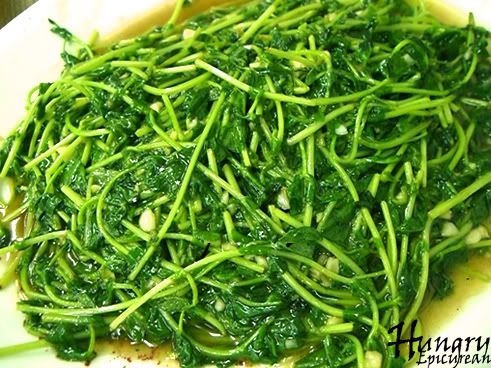 炒豆苗 (Stir-Fried Pea Sprouts) was the first to be up.  Its simply stir fried pea sprouts with garlic.  I would say, among all the dishes we ordered, this was the easiest on the taste buds.  Nothing much else could be said, except that it would go really well with plain rice.
And one thing about this restaurant is that, unlike your normal Chze Tchar or 煮炒, there are no different sizes for any of the dishes, everything comes only in one size.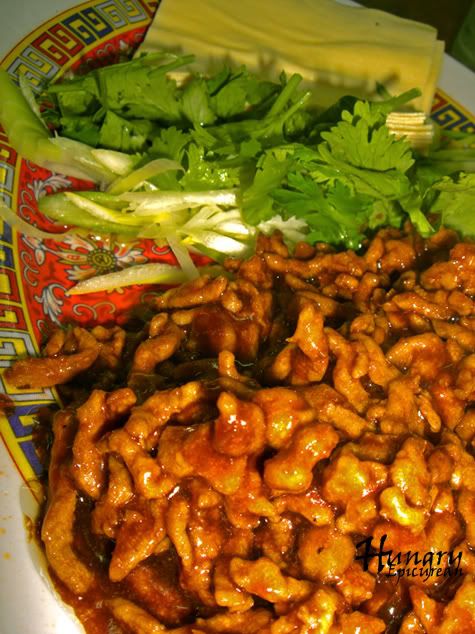 京酱肉丝 (Sauted meat shreds with soy bean paste) is a kind of special because of the way it is eaten.   It is served with a side of coriander, spring onions, cucumber and beancurd skin (the wanton skin lookalike at the back).
Here is a pictorial of how it should be eat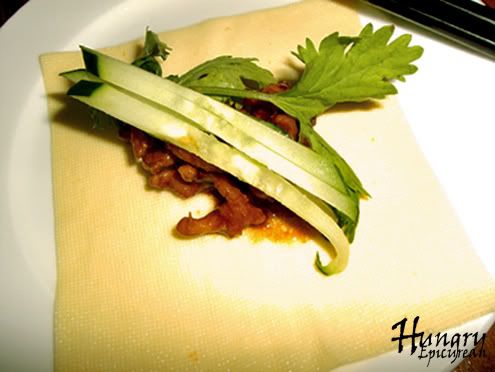 You take a piece of bean curd skin and you stack the meat and the greens on it, wrap it up and place it in your mouth. As the skin is literally tasteless and along with the greens, the saltiness of the meat is cut.  Its very similar to eating Peking Duck.  Technically, not really a dish to be eaten by itself.  The heavy seasoning makes this meat a very good partner with plain white rice too!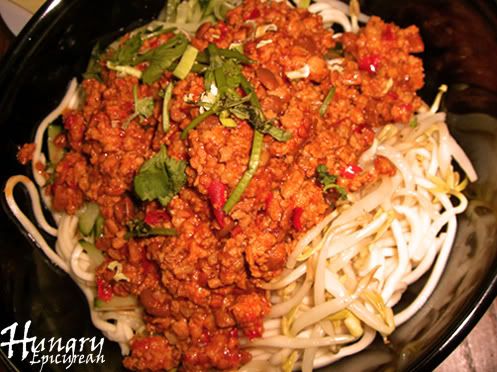 四川担担面 (Szechuan Dan Dan noodles) is, by far, my favorite item from this eatery.  I like how the noodle is very chewy and the combination of the fresh cucumbers and bean sprouts adds a refreshing taste to the spicy meat sauce. It can get a bit dry initially and at the end of it, too salty because of the leftover meat sauce.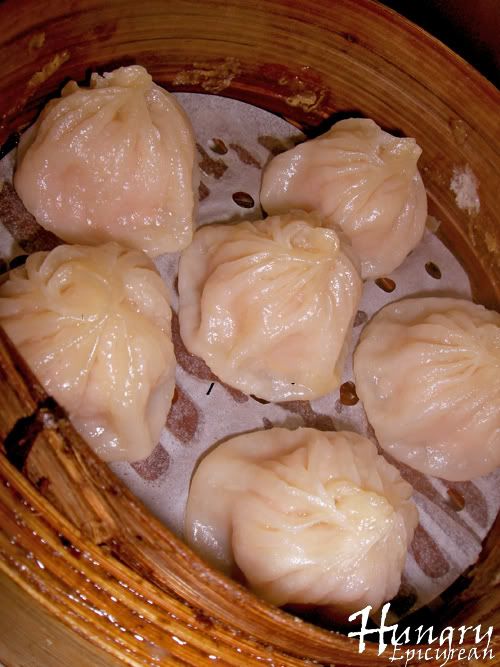 The 上海小笼汤包 (Shanghai steam dumplings) wasn't exactly fantastic as compared to the first few times I ate there.  This time it was dry and had no soup inside the dumplings.  I was quite disappointed, but then again, at just $4.50 for 6 meat-filled dumplings – I couldn't complain much.  I would probably give this a miss the next time I come over.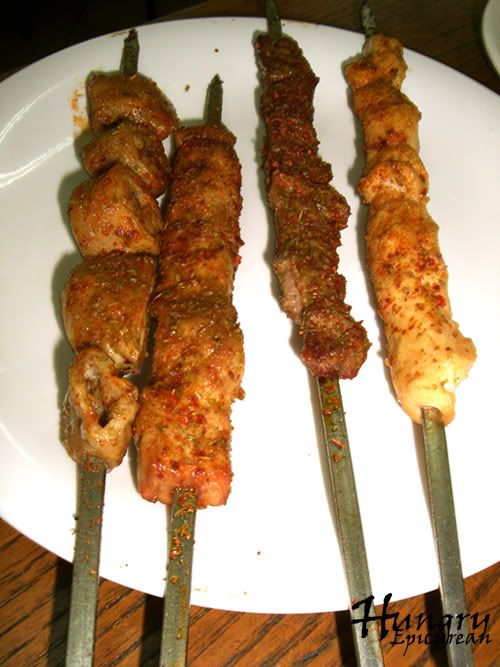 This is the Chinese rendition of our local Satay, 串烧.  The choices for these barbecued babies are wide.  To name a few –  there are beef, pork, chicken, mutton, shiitake mushrooms, French Beans, chicken wings and innards of animals (i.e chicken, pig).  But no matter which one you ordered, they are all spiced similarly with a special blend of herbs and spices.  The taste of the seasoning goes really well with everything, while not overpowering, its pretty flavorful.  They cost between $1 to $2.  I personally recommend the BBQ French Beans and Shiitake Mushrooms.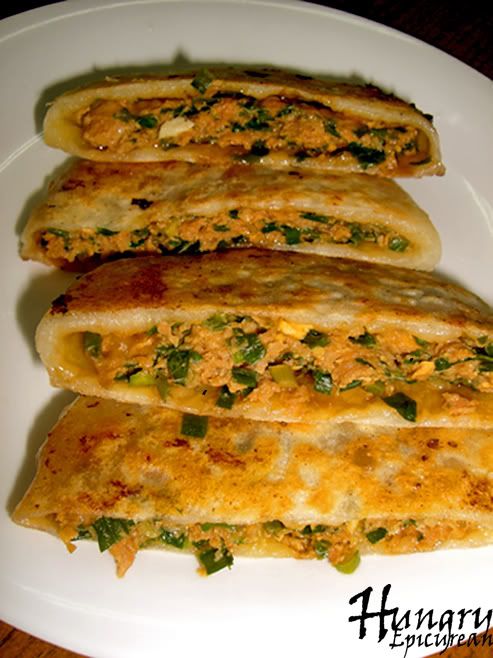 This 肉馅饼 (Chinese Meat Pie), is at a lot of aspects similar to the Steam Dumplings, except its fried to golden brown.  I would choose this over the steamed dumplings though. It goes really well with some vinegar.
On the whole, this place is not a bad place to eat, and the waitresses are very compromising.  Since there is no service charge, do not expect extensive table service.  As a matter of fact, you'll have to take tick the items you want to order right off an order chit.
This eatery is not difficult to locate.  It sits directly in front of Chinatown, in between of Bee Cheng Hiang and Lucky Chinatown.
Oriental Chinese Restaurant
195 New Bridge Road