To be frank, up till this visit, I had never heard of Capricci. I learnt about this Italian restaurant from my Sister, who is quite the foodie herself. The story was that one fine Sunday afternoon, she planned to dine at Osvaldo's, only to find that they were closed. Then, she walked across to Otto, again only to realize that they only open for business at night. Not knowing where to go, she proceeded to Capricci.
My sister had high praise for Capricci and after this meal, I realized the compliments were duly given.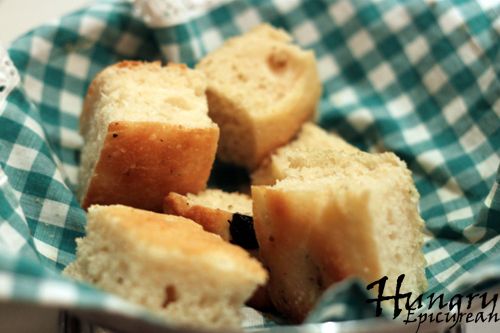 Complimentary foccacia topped with olives and herbs was served. I wouldn't go as far as claiming it to be the best I've ever had, but it was not too bad. Although, nothing beats the complimentary bread platter served at Osvaldo's.
My Dad ordered the S$28++ set lunch which came with 1 appetizer, 1 main course and a dessert while I ordered from the ala-carte menu.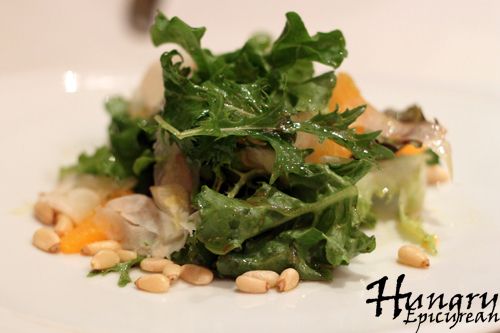 My dad's appetizer of Insalata di finocchi e arance was quite good! The salad consisted of a mixture of greens, fennel, oranges and pine nuts tossed with olive oil, black pepper & balsamic vinegar.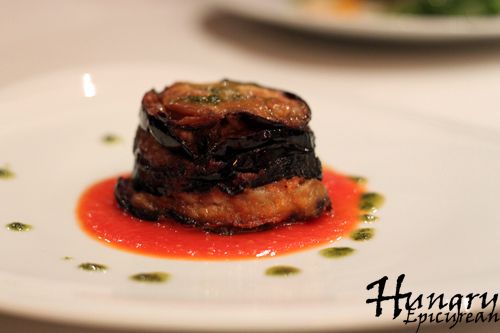 I started my meal with a appetizer of Melanzane alla parmigiana profumate al basilico (S$18++); essentially a tower of eggplants with mozzarella cheese, basil and tomatoes. You could literally taste the natural sweetness of the eggplants and tomatoes in this dish. A great way to start the meal, I thought.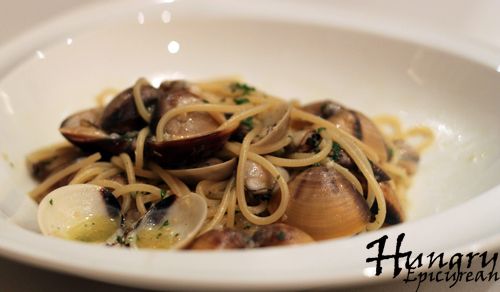 Imagine the delight on my dad's face when he saw Spaghetti alle vongole on the set lunch menu. He is an ardent fan of clams and mussels and if it's available on the menu, you could be sure that, that dish, will be his order of choice. He commented that the dish was great; refined in terms of taste. The only complaint was that the clams could have been larger in size. Additionally, one or two clams may have had too long a time in the pan.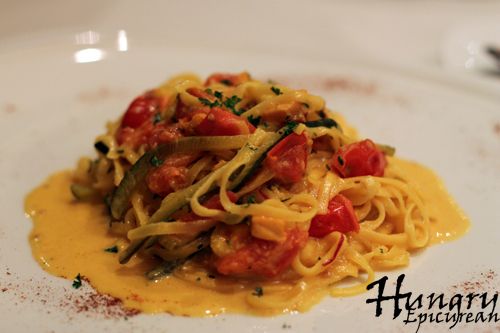 For my pasta dish, I chose the Tagliolini saporiti alla cernia con zucchini e zafferano (S$22++). The tagliolini came served grouper, zucchini and saffron sauce. What caught my eye was the, 'saffron sauce'. After having tried Valentino's rendition of a pasta dish served with saffron sauce, I would order any pasta served in saffron sauce if it were available on the menu. Capricci's rendition, was not disappointing! The saffron sauce was light on the palate, yet flavourful. Fact: Saffron, nauturally is a great flavouring agent. You only need 1/4 teaspoon of saffron to flavour 20kg of rice.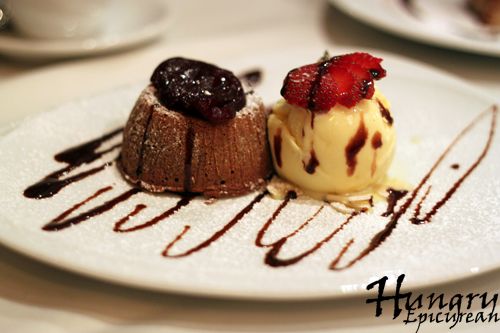 I am a fan of chocolate, especially lava cakes. So when it came to my dessert, the Lava di cioccolato con gelato (S$14++) it was. The lava chocolate cake was served with vanilla ice cream on the side. Personally, I found the dessert far too sweet for my liking. I could understand the requirement for having an extremely sweet vanilla ice cream if bitter chololate was used, but was it absolutely necessary if the chocolate itself was already sweet? I think not. Although the chocolate cake was not overcooked and chocolate came pouring out of the cake as you cut into it, it lacked the bittersweet chocolate taste.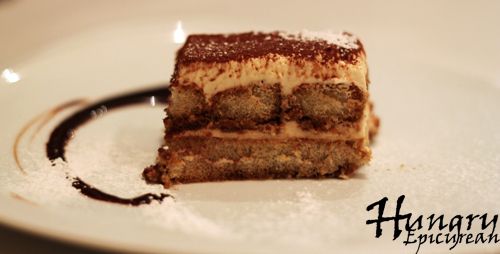 My dad has the age old favourite, the tiramisu.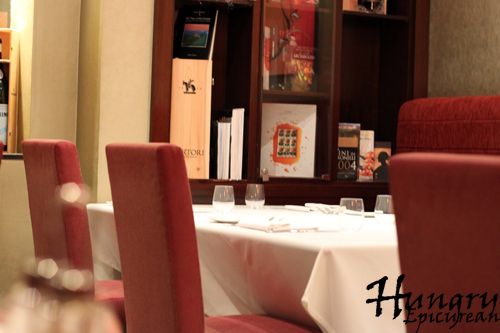 Capricci is a combination of good food and good support from the service crew. The manager and the waiters, were not only great with recommendations, they were prompt in refilling our glasses and clearing the plates. Seeing that I whipped out a DSLR and was snapping photos of every dish that was served the manager came around and shared that he had an interest in photography too, and started a long conversation that went from cameras to the iPhone to Technology in general.
Capricci
27 Tanjong Pagar Road
Tel: (65) 6221 6761