Au Petit Salut
Au Petit Salut
I dare say, Au Petit Salut's set lunch is one of the most, if not the most, value-for-money set lunches available in Singapore. For S$30++ per person, you get 1 appetizer, 1 main course, 1 dessert, ending off with a cup of either coffee or tea. While not impossible, it may be hard to reach without private transport or getting in on a taxi ride. However, for those who drive, one would be very pleased to know that Au Petit Salut have you in mind! A 40-lot private carpark is available! Did I mention that, it's free parking?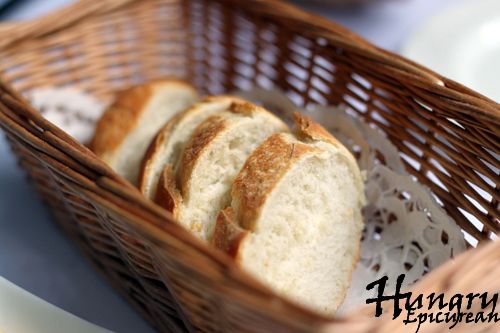 I used to visit Au Petit Salut once every 1-2 months and during one of the visits, I commented to the waiter that the complimentary bread was nice. Guess what I found out? The bread was baked by Delifrance and sent to APS every morning. APS used to bake their own breads before but the sheer volumes that they go through in a day deters them from continuing with that tradition. Note: This was a few months ago, so I'm not sure if this still holds true.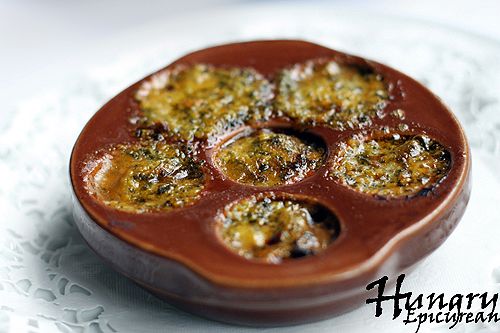 Starting off with the quintessential appetizer of Half dozen baked Burgundy snails with tomato and garlic butter. The escargots were, as how I remembered them to be. And to those who claim Burgundy snails taste exactly like chickens, oh boy, you are so wrong!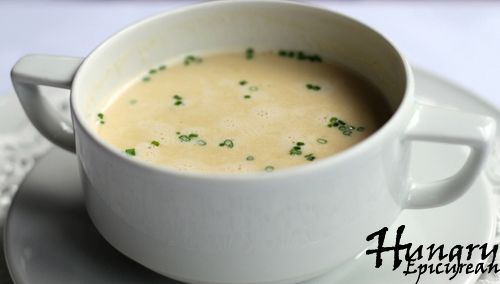 My dad ordered the Vegetable soup of the day. The soup of the day was the Fennel Soup. Fragrant, Creamy and Smooth, it was. However, I wasn't too impressed by the soup. I like soups which taste rustic, hearty and robust. Think Cream of Mushroom. Then again, I'm not a real fan of soups, besides good ol' Lobster Bisque and Mushroom Soup.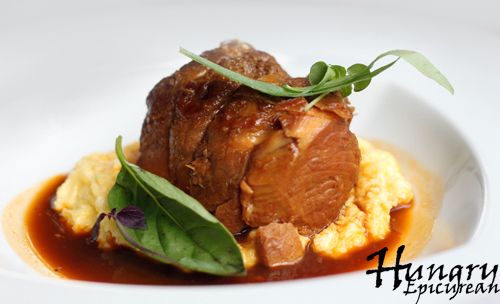 For my main course, I ordered the Slow braised pork neck in Madeira served with creamy polenta. An excellent choice, it sure was! The pork neck was really tender and flavourful. The polenta, infused with bits of corn, was as described in the menu – creamy! But do you know what surprised me more? The sheer portion size! I would have expected the portion to be somewhat smaller.
Sidenote: Polenta is a peasant dish made from boiled cornmeal.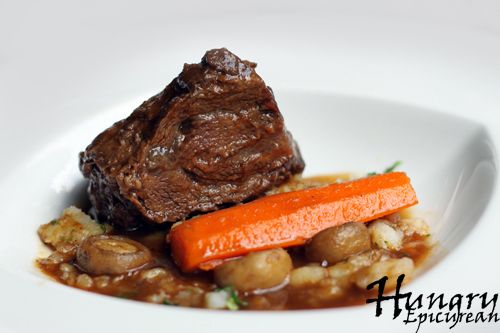 My dad had the Red wine braised beef cheeks, carrots, mushrooms and parsley potatoes. I tried a little and I have to say, that the beef was moderately tender. The sauce was decent, nothing really to shout about.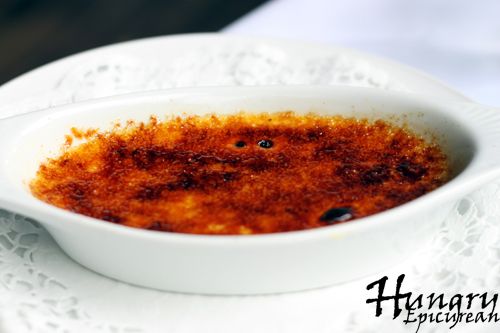 My meal ended off on a sweet note. I loved my Crème brulée infused with fresh Madagascar vanilla beans. You could literally see the vanilla beans and unlike artificial vanilla essence, the beans gave a very fragrant taste to the dessert, that leaves you wanting more.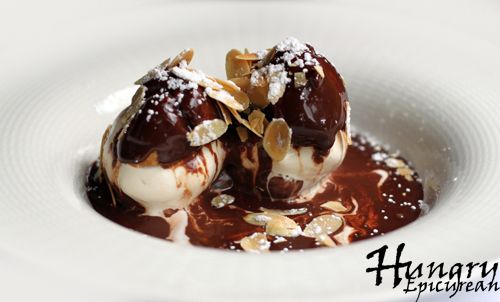 My dad ended his meal with Choux buns filled with vanilla ice cream in warm chocolate sauce, sliced almonds. The choux buns were pretty standard. I do have to add, that the accompany warm chocolate sauce tasted very nice, especially for those who like dark chocolate.
Au Petit Salut
40C Harding Road
Singapore 249548
Telephone: (65) 6475 1976
Website: http://www.aupetitsalut.com/
Operation hours:
Lunch Monday – Saturday
1130hrs – 1430hrs (Last order)
Dinner Monday – Saturday
1830hrs – 2230hrs (Last order)
Closed on Sundays