Borgo used to be one of my old haunts when it was at its previous Bukit Timah location. However, amidst a rising rent situation, Borgo was forced to vacate and has since been replaced by Trattoria L'Ancora. L'Ancora is owned by Roy and whose chef is Chef Shaminda, previously from La Nonna, Namly Place. But that, is another story for another day.
Before I delve into the food review proper, allow me the opportunity to give you a brief background of Borgo. Borgo used to be helmed by 2 chefs, Grill Chef Mimmo and Pasta Chef Andre, alongside Ganesh the Manager. Chef Andre along with Ganesh decided to set up a restaurant, Borgata at Clarke Quay, in partnership with LifeBrandz. Chef Mimmo, on the other hand, chose to set up his restaurant, Al Borgo, at a cozy corner of Bukit Timah Road, closer to Newton Circus.
Unlike it's previous location,alfresco sitting is available here just outside the restaurant. However, it does get quite a bit of afternoon sun. Sidenote: The alfresco sitting is quite near the main road of Bukit Timah Road.
To start, we shared an appetizer of Baked Portobello Mushrooms, topped with cheese. The portobello mushrooms tasted as they were supposed to be. The cheese was not overpowering, as I had first assumed. A well executed dish.
In addition to the portobello mushrooms, we shared a serving of the Mixed Salad. I really like how they do their salads here. Evidently, a good balsamic vinaigrette requires good quality balsamic vinegar and olive oil and clearly at Al Borgo, good quality it was. The balsamic vinaigrette was not too acidic, as some places tend to make them.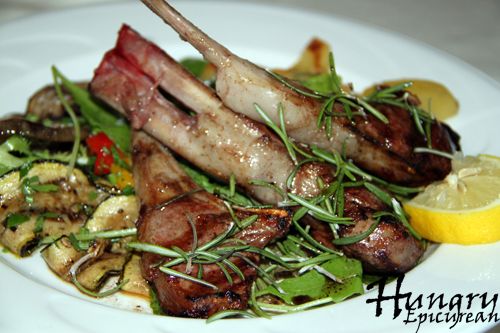 My sister had the Grilled Beef while I ordered the Grilled Lamb Chops. My sister mentioned casually that it was one of the better grilled meats meals that she has had. I personally agree with her. Chef Mimmo is a Grill Chef by training and his grilled meats are by far, one of the best that I've had the pleasure of tasting. Chef Mimmo uses a charcoal grill and thus his meats have this induced charred flavour, yet, owing to his fantastic control of the heat, the meats will always been done to your exact doneness!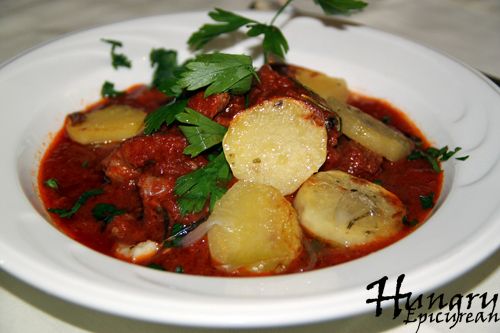 My dad ordered the Lamb Stew. A fan of lamb himself, he commented that it was quite good. The meat was tender to the bite and the accompanying sauce was full of flavour, none of that canned tomato sauce nonsense. However, on a more recent visit to Al Borgo, both of us noticed that the portions given for the Lamb Stew have shrunk.
Al Borgo
383 Bukit Timah Road
#01-02 Alocassia Service Apartments
Tel: (65) 6737 3546
Opening Hours:
Lunch 11.45am-2.30pm
Dinner: 6pm-10.30pm
(Closed on Tuesdays)